Testingfg of Ads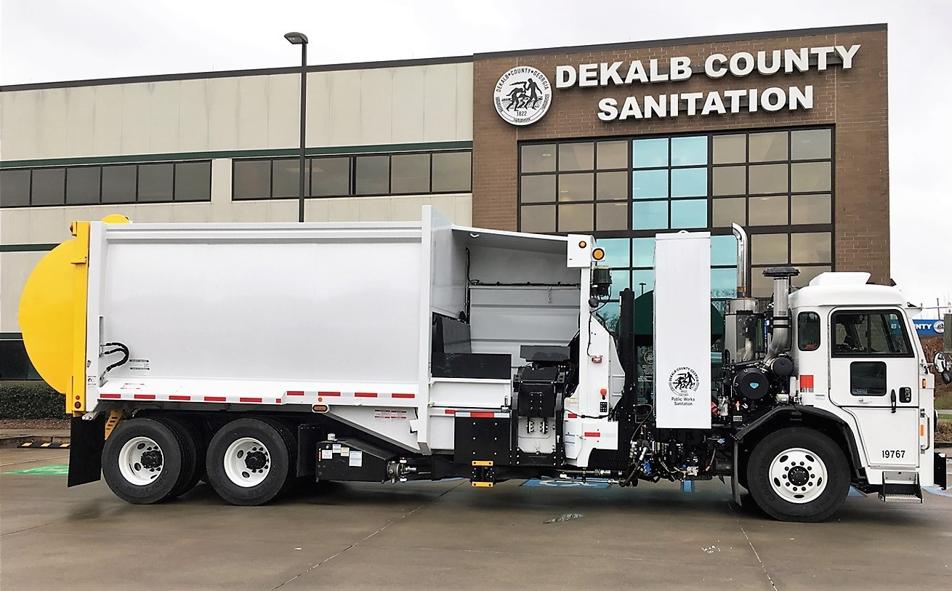 A $1.9 million investment will continue DeKalb County's ongoing deployment of automated side loader (ASL) trucks.
DeKalb County CEO Michael Thurmond proposed the funding for the Sanitation Division in the Fiscal Year 2020 budget, which was unanimously approved by the Board of Commissioners on March 3.
The upgrade to ASL garbage trucks was initially proposed as part of DeKalb's 2015 "Rolling Forward to One" initiative. The plan was to consolidate collection to once per week, avoid a near-term rate increase, reduce pollution and reallocate staff. While collection days were consolidated and standard 65-gallon roll carts were issued, ASL purchasing progress stalled.
" 'Rolling Forward to One' was not fully executed in 2015 due to poor planning, management and logistics," said CEO Thurmond. "I appointed Tracy Hutchinson as Sanitation Director in 2017 to pull the division's budget out of the red and improve operations."
Full deployment of ASL trucks is occurring in three phases: procuring trucks, hiring and training staff, and issuing right-sized 95-gallon roll carts for ASL routes.
In October 2017, the Board of Commissioners unanimously approved the purchase of 36 ASL trucks, followed by another purchase of 10 ASL trucks in May 2018. The total cost of the 46 trucks is $15.8 million.
ASL trucks meet and exceed industry standards. To improve operational, safety and communication functions, all ASLs were modified with cameras, two-way radios and steering that allows them to make tight turns in cul-de-sacs.
The first trucks were delivered in November 2018 and final delivery was made in October 2019, completing Phase 1.
Phase 2 of the rollout includes hiring and training drivers who have a commercial driver's license (CDL). ASL garbage trucks are operated by a single driver to enhance route service, reduce costs, and allow the county to service a growing number of customers.
In the FY 2020 budget, $93,000 was reallocated to increase the hourly wage of CDL-certified drivers to help recruit and retain ASL operators. ASL trucks were initially deployed by DeKalb in December 2019, and 23 are currently in use. Phase 2 is ongoing as drivers are hired and trained.
Phase 3 of the rollout is to right-size garbage roll carts. Although residents received 65-gallon roll carts in 2015, for many, the capacity is too small and leads to overflowing garbage bins. This contributes to neighborhood blight and slows collection because ASL drivers must leave their trucks at each stop to complete collection.
The $1.9 million investment in Sanitation will initiate the rollout of 95-gallon garbage roll carts to replace 65-gallon carts and increase efficiency of collection on ASL truck routes. Sanitation is expected to begin rolling out the 43,000 carts to customers on ASL routes in June.
"By purchasing the ASL trucks, increasing wages to remain competitive in a tight job market, and investing in right-sized containers, we are on track and following through on our promise to deliver best-in-class sanitation service," said Thurmond.