Testingfg of Ads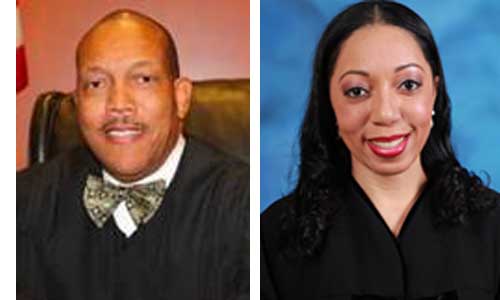 Local judges Ronald Ramsey, Phinia Aten elected to lead ABA special judicial group
At the recent American Bar Association's (ABA) annual meeting in San Francisco, local judges rose to lead roles in the national legal organization.
DeKalb County State Court Judge Ronald Ramsey was elected Chair-Elect and Rockdale County Chief Magistrate Judge Phinia Aten was elected Vice-Chair of the American Bar Association's (ABA) National Conference of Specialized Court Judges (NCSCJ) of the Judicial Division.
"It is truly an honor to be elected by our fellow member judges to serve in these respective offices and to represent the State of Georgia among this specialized group of judges throughout North America," Ramsey said.
Ramsey and Aten, who were both elected unanimously, were elevated to top-ranking executive officers and are in the line of progression to chair this national judicial group. In their new roles, they will offer judicial training and membership support and shape national judicial policy.
"This is a win for Georgia's judiciary and I am truly humbled to have this opportunity to lead and assist our fellow judges through the country," Aten said. "Specialized judges are some of the most knowledgeable, innovative and energetic leaders in the public sector and we are able to impact access to justice and the legal landscape in very unique ways."
Ramsey previously served as Secretary and District 4 Representative. Aten succeeded Ramsey as District 4 Representative last year when he was appointed as Secretary. District 4 covers Georgia, North Carolina, South Carolina, Tennessee and Puerto Rico.
"Judge Aten and I will continue to make a dynamic duo to ensure that the best of Georgia's ideas, judicial best practices and leadership will be brought to the executive committee to enlighten judges throughout North America," Ramsey said.
The NCSCJ's membership is comprised of judges throughout the U.S. with specialized jurisdiction over matters such as municipal, magistrate, traffic, juvenile, probate, tribal, family, criminal, accountability, international affairs and military justice.
Georgia Court of Appeals Chief Judge Christopher McFadden was elected Secretary of another judicial group, the Appellate Judges Conference, during the same ABA convention.
"The Judicial Division will provide important occasions for Judges McFadden and Ramsey and myself to work on regional and national justice initiatives," Aten said.
Founded in 1878, the mission of the American Bar Association is to serve equally its members, the profession and the public by defending liberty and delivering justice as the national representative of the legal profession. The organization has over 344,260 members in North America, including approximately 5,741 judicial section members.
However, African-Americans were barred from membership in the ABA until 1930. In 2015, Paulette Brown of New Jersey became the first African-American woman to serve as president of the ABA.
Judges Ramsey and Aten are now part of an historical leadership team, comprised of unanimously-elected, all African-American judges, including new Chair, Judge Shelbonnie Hall, of Mobile, AL; Chair-Elect, Judge Ramsey; Vice-Chair, Judge Aten; Secretary, Judge Andra Sparks of Birmingham, AL; and Past Chair, Judge Richard Nunes of Newark, NJ.