Testingfg of Ads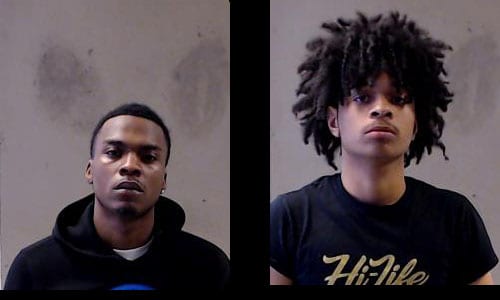 Pictured left to right: Eric Jordan Elam and Troy William Fiddes
The DeKalb County Sheriff's Office Fugitive Unit has arrested 26-year-old Acworth resident Eric Jordan Elam and 19-year-old Covington resident Troy William Fiddes.
Elam is known locally as the hiphop performer "Ahuto Dakkid."
Both suspects are accused of picking up Amir Azad on Feb. 7 in a vehicle and driving him to Memorial Drive in Stone Mountain, where they beat him with a handgun and robbed him. Authorities said Elam and Fiddes stole an I-phone, about $100 cash and the black and blue Jordan sneakers Azad was wearing. The suspects left Azad stranded on Memorial Drive with no shoes. Azad sustained injuries requiring treatment at a hospital, according to warrants.
Authorities cited as probable cause "social media contacts to make connections in the music industry."
DeKalb Sheriff's investigators took Elam into custody on Feb. 18 without incident at a Decatur residence. Fiddes was taken into custody without incident on Feb. 19 at the same location.  Both suspects were booked into the DeKalb County Jail.
Elam was wanted for aggravated assault and armed robbery in Cherokee County. He is accused of shooting and robbing a 24-year-old Kennesaw man.  Authorities said the victim told them he was at an apartment to sell Elam a pair of shoes when the shooting occurred.
Cherokee officials also charged Elam with armed robbery in connection with a Feb. 3 incident in which he allegedly robbed a woman at gunpoint at a Walmart on Bells Ferry Road, stealing her cell phone and cash.
Elam was wanted in Gwinnett County for violation of probation.