Testingfg of Ads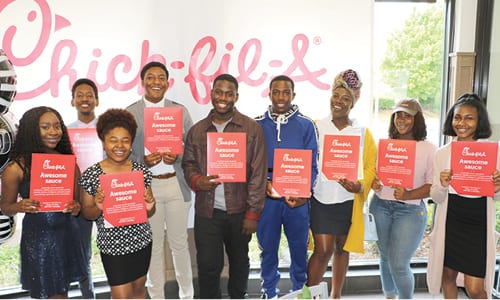 The Turner Hill Road Chick-fil-A is celebrating the accomplishments of 14 of its graduating high school seniors. 
Of the 14 who have worked for Chick-fil-A, 11 of the students are recipients of the 2018 Chick-fil-A Leadership Scholarship. The scholarships total $27,500. Each winner received $2,500 for their leadership, influence in the community and outstanding accomplishments academically.
"It is our pleasure to offer our congratulations to the Class of 2018. The Chick-fil-A team members receiving the scholarships have played a very important and indispensable role in the restaurant and the community," said Sam L. West, owner/operator. 
The students, West said, have made a positive difference in the lives of others, while building a legacy for future generations. They have been shining lights in their schools, achieving academic success at every level.  
"We are so proud they are a part of the Chick-fil-A Family," said West and his wife, Diann. "Many of the students have been a part of the Chick-fil-A family for over three years, and it has been an honor to have them apart of the Chick-fil-A family and team. Their generosity, dedication, and hard work has paid off, as each will be attending prestigious universities in the fall."
Turner Hill Road Chick-fil-A salutes: 
Amber Dukes, Xavier University
Aliyyah Abdul-Latif, Valdosta State
Kendall Bessent, Georgia State
Leon Guthrie, Kennesaw State
Rebecca  Kebbeh, Xavier University
Tredarius Lassiter,Tennessee State
Akaela Scott, Xavier University
Nathaniel Williams Mississippi State
Edwin Hicks, Savanna College of Art Design
Tylar Grimes, Tuskegee University
Hellenia Grubbs, Alabama State
Leroryal King Tuskegee University
Janay McBird, West Georgia
Jaelen McBrid, West Georgia