Testingfg of Ads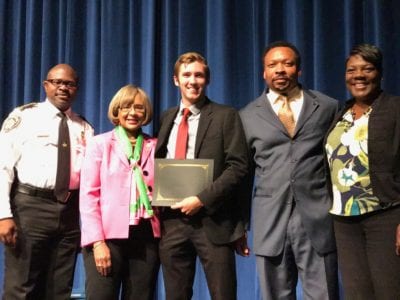 Rockdale County Constitutional Officers—Clerk of Courts Ruth Wilson, Sheriff Eric Levett, Probate Judge Clarence Cuthpert Jr. and Tax Commissioner Tisa Smart-Washington—presented Heritage High School senior Tony L. Wilson a $1,000 scholarship for his essay on the role of the Clerk of Courts on May 11.
Wilson is only the second student from Rockdale to win the statewide essay contest, said Suzanne Cross, executive director of the Constitutional Officers' Association of Georgia, Inc. (COAG). The scholarship, she said, has been awarded to students for more than 10 years.
Rockdale Clerk Wilson (no relation to Tony Wilson) said she is delighted to help present the award.
"I am simply delighted that an outstanding student such as Tony "TJ" Wilson chose to explore what it means to be a Clerk of Superior Court. As TJ pointed out, most people have no clue what our duties are or how we work in the public interest. It is exciting to have one of our own students receive such recognition among statewide applicants. The Constitutional Officers have chosen a good one. Ruth
Each year, COAG presents scholarships to three students in Georgia who win the organization's essay contest. This year, students were asked to pick a constitutional office in their county, and describe the mandated duties of that office and why the oath of office is important. Wilson chose the Clerk of Courts for his essay.
"Never underestimate the duties of the Clerk of Court because this person spends most of their time doing behind the scenes work that helps the courts run smoothly, all while knowing much of what they do will go unnoticed," Wilson said of this office in his essay.
Wilson went on the say the oath of office is important because "The Judicial system is the backbone of our national, state and county law, and it is important that the people entrusted to work in our courts are well qualified and place a high value on the ethics of completing their tasks."
The essay contest is open to students across the state who are either entering higher education or who are already working on their undergraduate degrees. Students must major in a field related to government/law enforcement, political science, accounting/finance or business or pre-law to be eligible to apply. Wilson plans to attend the University of Georgia in the fall and major in business.
The Constitutional Officers' Association of Georgia (COAG) is a Non-Profit State Association that empowers its members to better serve Georgia citizens at the county level.