Testingfg of Ads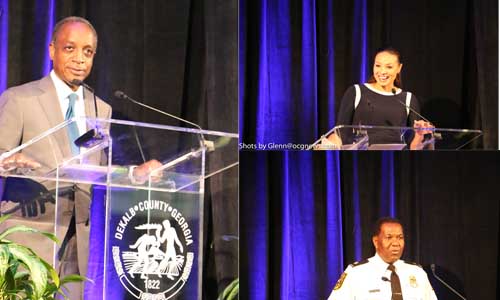 DeKalb CEO Michael Thurmond(left) thanked Fox 5 News Anchor Alyse Eady (above)  and Major Danny L. Jordan of the DeKalb County Police Department's South Precinct (bottom) for sharing  how they were once in foster care as children.  Photos by Glenn L. Morgan
DeKalb CEO Michael Thurmond Helping Kids in Foster Care
"We are investing in our children. We're going to put children first." –DeKalb CEO Michael Thurmond
DeKalb County CEO Michael Thurmond announced at his April 27 community State of the County address that organizers raised $10,000 to help support the 904 DeKalb children who are in Georgia's foster care program.
The fundraiser was the focus of Thurmond's community breakfast address, which was hosted at Greenforest Community Baptist Church in Decatur that Saturday morning. Earlier in the week at the address with business leaders, Thurmond discussed improvements in the county's infrastructure, the transformation of a $24.7 million deficit spending into a $112 million rainy day fund, and the county's turnaround into "an oasis of brotherhood," with Thurmond declaring that "DeKalb is rising."
Thurmond's community address had a different flavor.
"I don't have another State of the County Address in me this week," Thurmond said, drawing laughter from the audience.
Thurmond said he and his wife, Zola, wanted to let the community at large know about a personal commitment he is making as CEO to one of DeKalb's most vulnerable population: DeKalb's children.
"We decided to make this(the breakfast address) meaningful. We've had state of the county events, I suppose, for decades, but at the end of the day, the question is "Are we making a difference in the community?  The way you define difference is not how I live or how we live, buty ou have to look to the people who are most vulnerable and the most needy," said Thurmond.
"…I will not stand by and allow the drug dealers, the pimps and gang bangers to be the only ones in our community recruiting our children…We are investing in our children. We're going to put children first.".
Thurmond said he was moved by the stories shared by Fox 5 News Anchor Alyse Eady, who served as mistress of ceremony for the community breakfast, and Major Danny L. Jordan of the DeKalb County Police Department's South Precinct. Both, Eady and Jordan, revealed how they were in foster care as children and urged support of children who are in state custody.
"We would like to believe that every child has a loving home with all of the materials that they need to strive and prosper, but it's just not true," said Thurmond, who thanked the former pageant winner, who was crowned Miss Arkansas 2010 and police major.
Thurmond also thanked Jacobs Engineering for its donationof $5,000 to the foster care program and Cesar Williams, a senior at Columbia High School, Class of 2019, who introduced the CEO at the breakfast.