Testingfg of Ads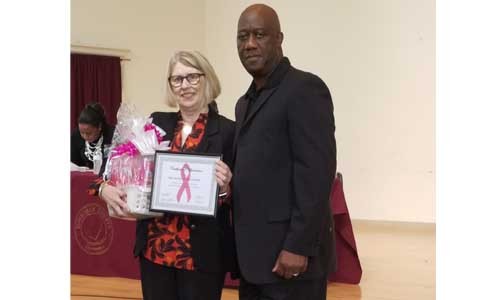 By Mackenzie N. Morgan
Since re-opening into a full-time health clinic in October, Helping Hands in Rockdale County is succeeding at its mission in providing preventive healthcare services to save lives, its founders say.
CEO Tolbert Morris recently presented Rockdale County Commissioner Doreen Williams with a basket donated by a 36-year-old woman, who was newly diagnosed with breast cancer.
"She wanted to thank Commissioner Williams for sponsoring her mammogram. It was detected early, thanks to Commissioner Williams' generosity in paying for the tests," said Janice Morris, president of Helping Hands.
The husband-and-wife team said the community in which they operate has a large population of uninsured and underinsured families. Helping Hands helps many of these families by providing preventative and diagnostic healthcare on a sliding scale basis or free of charge.
"So many people have lost their insurance due to expensive premiums. We are filling a need and closing the health disparity gap in our community. It's time to put the care back in healthcare," said Morris.
Morris said Helping Hands has received new state-of-the-art equipment, an increase in volunteer physician support and even new office furniture, thanks to donations.
"We can do everything that a primary doctor can do – birth control, pap smears, mammograms and even youth sports physicals. We do screenings for high blood pressure, diabetes, high cholesterol and we recently acquired an EKG machine to help detect if a patient is at risk for heart attack," she said.
Helping Hands makes it possible for patients to get screened and see a doctor within three days to address whatever health challenge they may be facing. The clinic offers a variety of same-day-results lab testing and its suite of volunteer doctors include a vast array of specialties such as pulmonary, cardiology, internal family medicine, gastroenterology, obstetrics and gynecology.
Helping Hands also serves as a training facility for medical students and physicians looking for real world experience.
In the coming months, Helping Hands will be rolling out "TeleMed," an online portal for patients to correspond with doctors digitally about minor illnesses and health concerns.
"Everyone deserves a helping hand. We couldn't do this by ourselves. We are so grateful that people believe in our mission enough to see to it that we succeed. We will continue to serve as many people as we can," Morris said.
Helping Hands is open Monday through Friday and is located at 1733 Lake Rockaway Road, Conyers. Walk-ins for labs and screenings are welcome five days a week and primary care is offered three days. Bilingual services are also available for Spanish speaking patients. During December, Helping Hands will be offering free EKG heart screenings. For more information and hours, visit www.helpinghandsga.org or call 678-750-3688.