Testingfg of Ads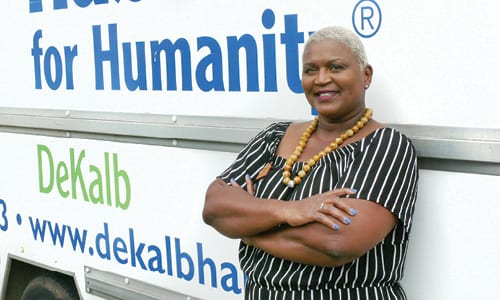 Habitat for Humanity has named a new executive director, Sharon Steele has taken leadership of the organization.
 Steele most recently served as director of development for DeKalb County's senior services provider, Senior Connections.
 Her resume also includes stints in construction, mortgage origination and interior design, all experiences that will help Steele guide the 30-year-old organization and raise awareness about Habitat for Humanity-DeKalb.
"DeKalb has had Habitat for Humanity since 1988, yet I have found so many people are unaware of our existence," said Steele. "My first priority as executive director is to re-establish our brand identity, to remind people that there is a very local presence for Habitat for Humanity that could use their time and resources to help the 
DeKalb community."
Habitat for Humanity has more than 1,500 affiliates in the United States and 550 international affiliates who coordinate Habitat house-building projects. While Habitat for Humanity International provides support services and resources, Steele's goal for Habitat for Humanity-DeKalb is to promote awareness of its own projects and, more importantly, its need for volunteers, donations and sponsorships.
Steele said she plans to develop workshops that help Habitat homeowners gain a deeper understanding of how mortgages work, how to put together and stick to a budget, and how to use your home to build and maintain a good credit rating.
"Many of our clients have no experience with home ownership and have not made the mental transition from renter to homeowner," Steele said. "They still may not understand that maintenance is their responsibility or as the home values increase, their escrow may change affecting their monthly mortgage payments."
Steele said she also plans to promote DeKalb's ReStore, its home improvement store and donation center that sells new and gently-used furniture, appliances, home accessories, building materials and more to the public at a fraction of the retail price. Proceeds from Habitat ReStoresare used to support the local affiliate's building projects.
Steele said her recent experience with Senior Connections has made her aware of the housing needs of DeKalb's seniors, many of whom are unable to safely stay in the homes in which they have lived for most of their adult lives. 
"Assisted living or a nursing home can cost a senior or family $3,600 a month or higher. I want to expand senior housing services in Habitat DeKalb's program, where we would help a senior with repair costs or mobility remodeling so they can stay in their homes," Steele said.
Steele said she is excited about re-invigorating the organization.
"Every challenge is also an opportunity," she said. "Working with my dedicated staff and our enthusiastic board of directors, I have put together a plan with both short-term and long-term goals to raise the profile of Habitat for Humanity-DeKalb, but our ultimate goal is, simply, to build healthy, affordable houses."