Testingfg of Ads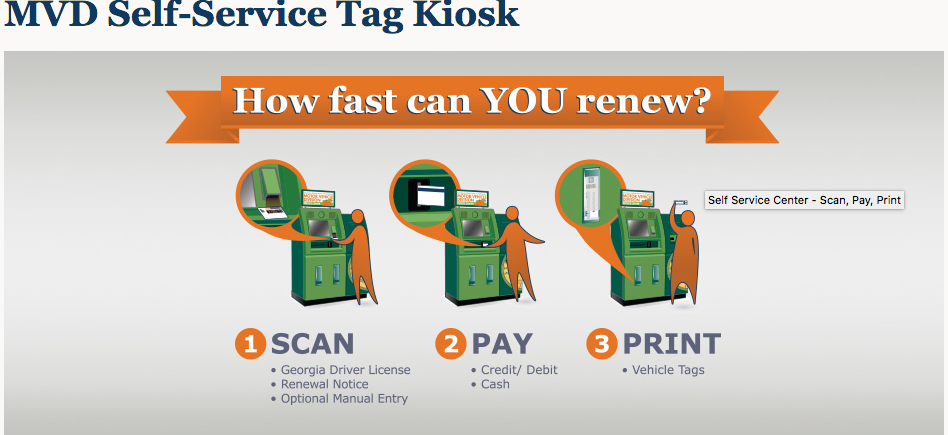 The Gwinnett County Tax Office has opened four more self-service kiosks where residents can renew tags and walk away with a decal in hand. This brings the total number of kiosks in the county to six.
"Kiosks are a popular and convenient way for drivers to renew their tags," Tax Commissioner Richard Steele said. "We're excited to expand access to kiosks in these Kroger stores."
Following is a list of the Kroger stores with new kiosks, and their hours of operation:
STONE MOUNTAIN: 1227 Rockbridge Rd. S.W.; 6 a.m. – 1 a.m.
DULUTH: 3093 Steve Reynolds Blvd.;  24 hours
SUWANEE: 2121 Lawrenceville-Suwanee Rd.; 6 a.m. – 1 a.m.
DACULA: 505 Dacula Rd.; 6 a.m. – 1 a.m.
To renew at a kiosk, drivers must possess a valid Georgia driver's license and a renewal notice that reflects their correct address; liability insurance and, if applicable, a valid emissions inspection, must already be on file with the state. Kiosks accept debit and credit cards, and convenience fees apply. Title services are not available at kiosks.
Find more kiosk locations and information about ways to renew tags at GwinnettTaxCommissioner.com/locations.
For assistance, call the Motor Vehicle Customer Contact Center at 770-822-8818 or via email to tag@GwinnettCounty.com.