Testingfg of Ads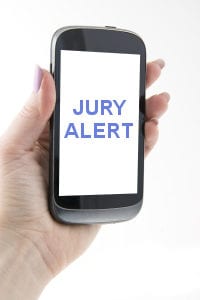 If you're selected for jury duty in Gwinnett County, you'll get updates by text now. Gwinnett County Courts announced the launch of a text-based notification system to update jurors on their jury status. With the new texting platform, jurors receive automatic messages about their upcoming jury duty, as well as nightly updates throughout their service week notifying them whether or not to report for service.  The texting platform augments existing web and IVR-based systems.
"Jurors have been asking for an easier, more convenient way to get their juror status. With our new text messaging system, jurors receive proactive text messages without having to call or check the website – and they love it," says Abby Carter, Jury Manager for the Gwinnett County Courts.
The court conducted a six-month trial with TextGov's Juror Notification System. During the trial period, jurors were asked about their experiences with the system. One juror said, "I thought I only had to check on Sunday. If I had not gotten the text, I wouldn't have known if I was needed." Another juror noted, "I really like the texts showing whether or not I have to appear."
In addition to making the process more convenient for the juror, the text messaging system improved juror compliance rates. During the trial, among those jurors that opted in to receive text reminders, an average of 96 percent appeared in court on their appointed days.
"The implementation with TextGov was incredibly smooth. In addition to providing a better juror experience for the citizens of Gwinnett, the system is cost effective and efficient," said Phil Boudewyns, Circuit Court Administrator.