Testingfg of Ads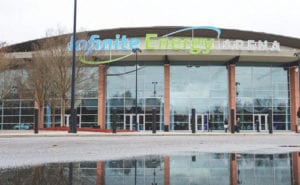 The Gwinnett County Board of Commissioners adopted a resolution endorsing and supporting Explore Gwinnett's revised master plan for the Infinite Energy Center complex.
Concepts in the overall plan include an expansion of the exhibit hall, new outdoor gathering spaces, new parking lots and decks, a headquarters hotel, new and improved access to the center from surrounding roadways and additional arena seating, plus a mixed-use district that offers entertainment, dining, retail and housing options. Progress has already been made toward some of these goals, including the County's acquisition of land adjacent to Meadow Church Road that will eventually become additional access points into and out of the complex.
"What began as a $30 million investment of SPLOST funds to build a civic and convention center nearly 30 years ago today includes an arts center, ballroom and the Infinite Energy Arena," said Board Chairman Charlotte Nash. "My fellow board members and I are proud to support Explore Gwinnett's plan to turn an already successful complex into a vibrant destination for residents and visitors to 'come early and stay late.'"
A one-year comparison of activity at the Infinite Energy Arena shows total attendance grew by more than 100,000 between 2014 and 2015 and the number of events and performances increased by about 20 percent during the same period. Similar growth occurred in the number of events held in the convention center space.
The existing 50,000-square-foot exhibit hall lets the Infinite Energy Forum compete for 20 percent of the mid-sized meetings in the industry, said Explore Gwinnett CEO Preston Williams, who added that expanding to 125,000 square feet will let the Center compete for up to 70 percent of the meetings market.
"The Infinite Energy Center master plan has been part of our vision for 10-plus years. Expanding the convention center, creating the entertainment district and adding a headquarters hotel will elevate the Center to the next level of meeting facility," said Williams. "The partnership and support of the Gwinnett County Board of Commissioners has been one of the keys to our success and is part of the reason the Center generates more than $175 million in economic impact annually.