Testingfg of Ads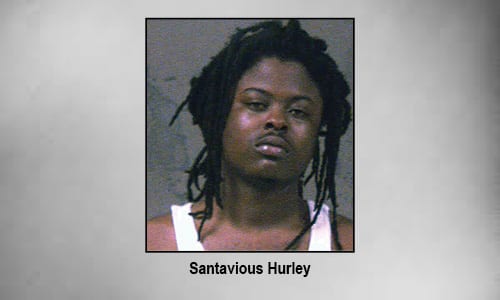 Santavious Jerome Hurley, 26, received a life sentence after pleading guilty to several charges including murder, armed robbery and aggravated assault.  DeKalb County District Attorney Sherry Boston  said Hurley entered a guilty plea ahead of his scheduled trial next week.
 The charges against Hurley stem from a series of incidents beginning on the night of April 11, 2017. According to the investigation, Hurley approached two men waiting for an Uber driver outside of a gas station in the 2500 block of Gresham Road shortly before10:30 p.m. The Hurley held the men at gunpoint and demanded the victims take off their pants and give up their wallets and several electronics. He fired multiple shots at the men before escaping in a stolen SUV. The vehicle was recovered a short distance later with the victims' belongings and a handgun inside. The victims were not injured.
About two hours later, Hurley shot and killed 39-year-old Joseph Brown outside of a Flat Shoals Road motel in Decatur following an argument. Witnesses reported seeing Hurley waving a gun and making threats before firing several shots at the victim, striking him in the chest and fatally wounding him.
 The following day, Hurley, armed with two guns, approached a group of people gathered outside of a home in the 900 block of Bouldercrest Drive and tried to rob them. A fight broke out between Hurley and a fourth victim, Will Harris. During the fight, Hurley shot the victim, who grabbed one of the guns Hurley was carrying and returned fire, striking and wounding him. Hurley escaped in a getaway car driven by co-defendant Roshun Allen.
Both, Harris and Hurley, were taken to Grady Memorial Hospital. Hurley was identified as the shooter after Harris, who spotted him in the emergency room, where they both were being treated.   
A bench warrant has been issued for co-defendant Allen.
 DeKalb County Superior Court Judge Courtney Johnson presided over the case. The case was prosecuted by Deputy Chief ADA Buffy Thomas with assistance from DA Investigator Chris Weismen. Detectives J. Kearney and D.R. Ward of the DeKalb Police Department, and Detective T. Epps,of the Atlanta Police Department, led the initial investigations.