Testingfg of Ads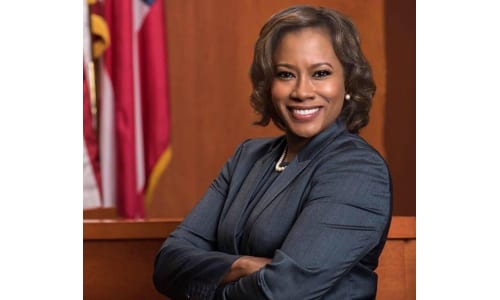 DeKalb County District Attorney Sherry Boston announced a conviction by guilty plea in the murder and aggravated assault case against a Decatur man accused of killing a 6-year-old boy and attempting to strike a police officer with his car.
During plea proceedings on Dec. 11, Meshon Williams, 18, entered a guilty plea to charges of felony murder, aggravated assault (eight counts), fleeing or attempting to elude a police officer, and possession of a firearm during the commission of a felony.
The extensive list of charges against Williams stems from a series of events spanning several days in May 2018.
On May 5, 2018, police responded to a 'person shot' call in the 3000 block of Sweetgum Lane in Decatur. The victim, Z'Mari Mitchell, was lying on his living room floor suffering from a single gunshot wound to his head. The child was rushed to the hospital, but died four days later from his injuries. The investigation revealed that defendant Williams drove a group of teen girls to the home to confront the victim's sister over a social media spat involving a boy. After a brief altercation, the teens fled the home into a waiting vehicle with the Williams behind the wheel. Shortly after taking off, Williams stopped the vehicle, exited the car and began firing toward the victim's home, with at least one bullet piercing through the wall and striking the young boy. Authorities recovered a total of 31 shell casings from the scene.
Two days prior to that incident, Williams rammed a police vehicle several times after being cornered by DeKalb County Police officers outside of the Spring Valley Apartments on Misty Waters Drive in Decatur. Authorities were attempting to stop Williams and question him about the stolen vehicle he was driving. As Williams attempted to exit the complex, DeKalb Police Officer E. Mayweather, who was standing outside of his patrol car with his gun drawn, ordered Williams to "stop." After ignoring the officer's repeated commands, Williams began charging towards the officer with his vehicle, forcing him back inside the car to safety. After ramming the patrol car several times, Williams fled the scene, giving a brief chase to police before getting away.
Williams was ultimately captured on May 10, 2018, after leading on a high-speed chase along Kelly Lake Drive in Decatur. Williams ignored several traffic control devices and struck another motorist before bringing the car to a stop. He exited the vehicle and ran to an area of brush where a K9 Unit tracked his scent. He was taken into custody without further incident. Following his arrest, Williams admitted his involvement in the aforementioned crimes.
Williams was sentenced to life with the possibility of parole, plus five years on probation, by DeKalb County Superior Court Judge Courtney Johnson, who presided over plea proceedings.
The case was prosecuted by Deputy Chief Assistant District Attorney Buffy Thomas with assistance from Senior ADA Ashley O'Neal and DA Investigator Waine Pinckney.