Testingfg of Ads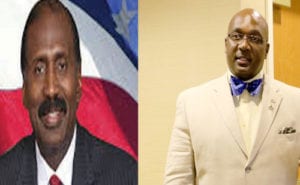 Democratic candidates Gregory Adams and Randal Mangham are headed for a run-off on Dec. 6 in the special election to fill the vacant DeKalb County Board of Commissioners Super District 7 seat.
Adams received 26.01 percent of the vote, while Mangham received 16.27 percent, according to unofficial election results. Since neither received more than 50 percent of the vote, the runoff will be held.
The winner will represent 350,000 residents in the eastern half of DeKalb. The Super District covers Lithonia, Stone Mountain, Pine Lake, Tucker, Doraville and incorporated areas. The seat became open after Commissioner Stan Watson resigned in March to run for DeKalb County tax commissioner. Watson was unsuccessful in his bid.
Adams is a police officer at Emory University. Mangham is an attorney and former state representative.
Here's how the other candidates in the Super District 7 race fared, according to preliminary results:
Diane Daniels Adoma (D) 15.39 percent
Faye Coffield (D) 10.86 percent
Rita Robinzine (D) 8.47 percent
John E. Tolbert, Jr. (D) 7.75 percent
Jerome Edmondson (D) 5.13 percent
George Chidi (D) 4.78 percent
Edward Patton (D) 4.65 percent
Jerome Edmondson had actually withdrawn from the race but did not file the proper paperwork for his name to be removed from the ballot so some voters still chose him. Edmondson said he got out of the race because he wanted to devote more time to a nonprofit he was opening to mentor young black men.
The DeKalb Board of Commissioners will have a new face: Democrat Steve Bradshaw, who defeated Republican Willie J. Willis for the District 4 seat, earning 88.44 percent of the vote.
Republican Nancy Jester (District 1), along with Democrats Mereda Davis Johnson (District 5) and Kathie Gannon (District 6), all ran unopposed and were re-elected.