Testingfg of Ads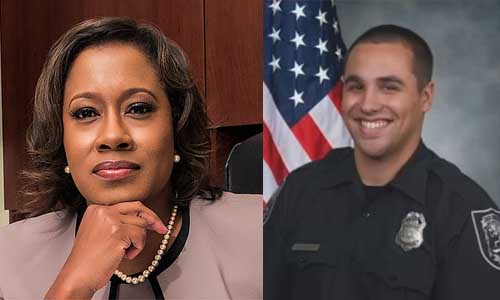 A DeKalb County Grand Jury has returned an indictment against a DeKalb County Police Officer accused of using his baton to repeatedly striking a woman inside a Decatur convenience store.
Phillip Larscheid, 29, is charged with one count of Aggravated Assault and one count of Violation of Oath, both felonies, in connection with the 2017 incident involving Katie McCrary that was captured on cell phone video that went viral a month after he had been cleared of using excessive force. Authorities reopened the case after the video of his viciously beating her became public.
"We determined that the case warranted prosecutorial action and presented the case today to the Grand Jury," DeKalb District Attorney Sherry Boston announced on May 30 during a news conference.
Boston said a warrant was issued for Larscheid's arrest and he was expected to turn himself in within two days. She said the case would be scheduled for arraignment and set for trial at a later date.
A number of civil rights activists and others protested the beating, saying Larscheid, who is white, used excessive force as the black woman tried to shield herself from his repeated blows.
Amos King, who led one of the protests, said he was pleased with the indictment.
"We're glad to see that he was indicted. I'm glad the D.A. did what needed to be done," said King. "It's been long enough—over two years—that he (Larscheid) has been on desk duty. He should have been fired a long time ago, instead of wasting taxpayers' money. This officer should go to jail."
The charges against Larscheid stem from an incident inside a Chevron Gas Station in the 3300 block of Glenwood Road in Decatur on June 4, 2017. The officer was dispatched to the location on a shoplifting and loitering call involving McCrary as the alleged suspect.
According to the investigation, Officer Larscheid encountered McCrary near the front door when he arrived. The officer advised McCrary that she needed to stay so he could speak with her. McCrary attempted to leave, pushing into and past the officer in an effort to go around him and leave the store, Boston said in a news release
Larscheid then began beating the woman across her arms, legs, back, and once in the head.  McCrary was handcuffed and arrested for Felony Obstruction of an Officer. She was taken to the hospital where medical staff determined she sustained a laceration to her lower left leg and multiple contusions on her arms and legs consistent with baton strikes.