Testingfg of Ads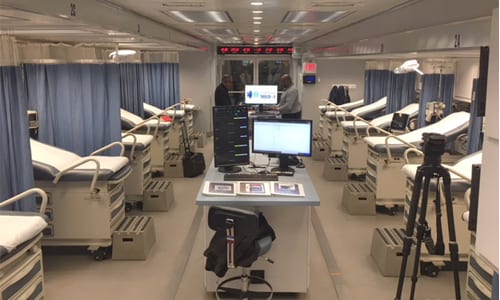 Grady Memorial Hospital has added a new mobile emergency department unit to help treat flu patients. Like other hospitals across the region and nation, Grady is experiencing high patient volumes this flu season and new initiatives were added to expand quality care and prevent the unnecessary spread of the flu.
The facility, Carolinas Med-1 Mobile Emergency Department, is the only state-of-the-art medical trailer complex available in the United States. Stationed near the hospital's emergency room, the unit includes a two-bed operating room and up to 14 extra beds.
Additional flu treatment initiatives include temporarily limiting hospital visitors under the age of 14 and restricting adult visitors who show signs of being sick, such as coughing, sneezing, and runny noses. The hospital has posted signs asking visitors not to enter the hospital if they feel ill and hand sanitizer lotion is available at all main entrances.
The Centers for Disease Control and Prevention (CDC) suggests getting vaccinated each year to prevent seasonal flu. However, covering coughs and washing hands can help stop the spread of germs and prevent respiratory illnesses like the flu. The CDC also suggests staying home when sick and avoiding close contact with people who are ill.
DeKalb and Fulton counties have supported Grady's mission of care since 1941, when they created the Fulton-DeKalb Hospital Authority. About 80 percent of Grady's operating budget depends on government funds, including direct contributions from long-time partners, DeKalb and Fulton counties. Grady is committed to the underserved and leads through clinical excellence, innovative research and progressive medical education and training. For more information about Grady Health, visit www.gradyhealth.org.