Testingfg of Ads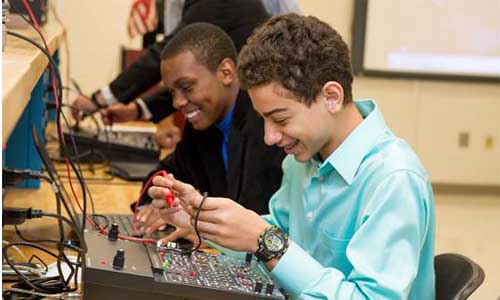 Georgia Piedmont Technical College (GPTC) unveiled the college's new, state-of-the-art Advanced Manufacturing Center.  GPTC President Jabari Simama was joined by Commissioner Gretchen Corbin, Technical College System of Georgia (TCSG), Ralph Staffins, president/CEO of the Covington/Newton County Chamber of Commerce, and other corporate, elected and civic leaders, for ribbon cutting ceremony.
The Advanced Manufacturing Center is located on GPTC's Newton Campus, Building C, 16200 Alcovy Road, Covington.
"As we celebrate our Newton Campus 20th anniversary, I am pleased to announce we are delivering this Center on time and as scheduled, on a project that our team promised earlier this year," said Simama.  "That promise was that we would offer the best and the latest technology here at Georgia Piedmont Technical College to ensure a highly skilled and qualified workforce for today and in the future
The new center provides training to prepare future and incumbent workers to fill needed skills shortages that are being experienced by many manufacturers throughout the state of Georgia.  The center is comprised of five labs of new equipment, which provides training in machine tools, electronics, mechanical training, automation and process control, as well as industrial wiring and motor controls.
"The new Advanced Manufacturing Lab will serve this region with the best and latest technology, equipping students with the necessary skills to meet the ever-evolving needs of business," said Corbin. "This outstanding training facility testifies to the commitment of Dr. Simama and the entire team at Georgia Piedmont Technical College to their community and to their students."
The Advanced Manufacturing Center will also be the home of the college's Industrial Mechanics program to train students to become credentialed and workforce ready.  In addition, the Center will support customized industry training to assist established workers in upgrading their skills and remaining current with industrial systems technology.
"This new center strengthens the commitment of the Georgia Piedmont to provide a skilled, well-trained workforce to the counties that we serve," said Dr. Ivan Harrell, executive vice President of GPTC.