Testingfg of Ads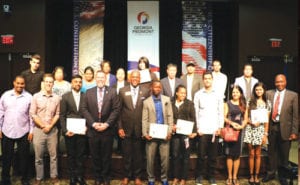 Georgia Piedmont Technical College (GPTC) and immigration officials congratulated 16 candidates during the college's 13th Annual Constitution Day and U.S. Citizenship Celebration.
The Sept. 15 naturalization ceremony was conducted by Brett Rinehart, Director, Atlanta Field Office of the U.S. Citizenship and Immigration Services, Department of Homeland Security.
"Conducting the ceremony in Clarkston, which is one of the largest refugee re-settlement areas in the country, makes today's ceremony even more meaningful," said GPTC President Jabari Simama.  "Our college benefits by being in such a vibrant community of people bringing their traditions and multi-national experiences with them.  Last year, more than 1,825 students enrolled in our free English language classes.  More than 100 languages are spoken by students who attend our college," he continued.
Before the candidates crossed the stage to be recognized, Director Rinehart expressed his enthusiasm for his role in the ceremony and discussed the significance of holding the event at Georgia Piedmont.
"As director of the Atlanta Field Office of USCIS, I never get tired of administering this oath.  Last year in Georgia, our agency naturalized approximately 23,000 new citizens in Georgia, and so far this year that number has jumped to more than 25,000," he said.  "We're glad to hold a naturalization event here, as Georgia Piedmont is known for educating a diverse student body.  I'm glad to be here on this campus for the ceremony, because education makes us all better Americans."
In addition to recognizing the 16 candidates for citizenship, three students who attend Georgia Piedmont also were honored for becoming U.S. citizens earlier in the year.  Diane Hunter, English as a Second Language (ESL) Coordinator at Georgia Piedmont, welcomed Jorge Baculima from Ecuador; Helen Min Huo from China; and Letberhan Gebremariam from Eritrea.
Dr. Tony Nnabue, Supervisory Immigration Services Officer with the U.S. Citizenship and Immigration Services, Department of Homeland Security, facilitated the program.
Each candidate was given a certificate after Director Rinehart administered the oath of allegiance
Ravin Sijapati, one of the candidates from Nepal, said, "I am really excited about becoming a U.S. citizen.  My mother and my sister were also naturalized here today, and we are very appreciative to the U.S. Government for allowing us to become citizens of this wonderful nation."