Testingfg of Ads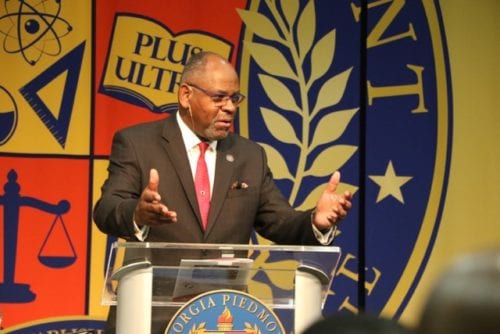 Georgia Piedmont Technical College (GPTC) is on the cutting edge of preparing students for high-demand jobs in the state of Georgia, GPTC President Jabari Simama said during his State of the College Address.
"As we come together for the 2017 State of the College Address, I am pleased to announce the state of our college is exceptional," said Simama. "Our student body today looks very much like the workforce of tomorrow. Our college is providing a pipeline of skilled graduates who are well-prepared for high-demand career fields."
Simama delivered his address to leaders from business and industry, as well as elected and appointed officials, during a breakfast meeting on the college's DeKalb campus.
Simama highlighted innovative academic programs for which the college is known, including its film and television production department. He said Georgia Piedmont is partnering with the Georgia Film Academy to offer a certificate program in film and television production, which Gov. Nathan Deal recently stated is a $6 billion growth industry in Georgia. Other key academic areas Simama mentioned included advanced manufacturing, 3D printing, drone technology, cyber forensics, and transit and transportation technologies.
"Georgia Piedmont Technical College partners with high schools in its four-county service area to offer dual enrollment classes, and this has become a very popular initiative," Simama stated.
The Move On When Ready (MOWR) program allows high school students to enroll in college classes while obtaining both high school and college credit.
Simama also touted many of the college's other initiatives, such as adult education, continuing education and customized business and industry training.
Experts predict that over 60% of jobs that will exist in 2020 most likely will require some form of post-secondary training, and Georgia Piedmont stands ready to help train the 21st century workforce, Simama said.
"At $89 per credit hour, Georgia Piedmont Technical College remains one of the best higher-ed values in the state," Simama said. "For a third of the cost of attending the University of Georgia, a student at our institution can earn a higher education credential. The decision to enroll at Georgia Piedmont is a wise investment."
In his speech, Simama also touched on transfer agreements that will allow Georgia Piedmont's students to transfer seamlessly to four-year colleges and universities. He highlighted a groundbreaking agreement that Georgia Piedmont put into place this month with Clark Atlanta University.
"This agreement is a multi-tiered partnership that will expand college access to individuals who never dreamed they could graduate from a university as prestigious as Clark Atlanta," said Simama. "Under this new agreement, an individual can go from not possessing a high school diploma to earning a Ph.D. This is further evidence of how we are making a difference in the communities we serve."