Testingfg of Ads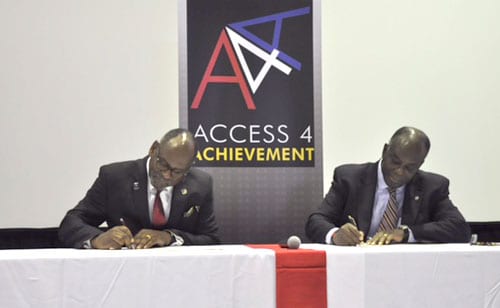 Georgia Piedmont Technical College (GPTC) and Clark Atlanta University (CAU) will offer dual admissions and joint enrollment for qualified students at both institutions beginning late spring.
The two schools announced the launch of the historic partnership on Feb. 15 in the Robert W. Woodruff Library Exhibition Hall at Clark Atlanta University.
The partnership program entitled "Access 4 Achievement" will offer students the opportunity to strengthen academic rigor, program-specific transfer agreements and joint faculty and teaching opportunities for graduate students and faculty at both institutions.
GPTC President Jabari Simama actively sought a higher education partnership with Clark-Atlanta University to provide additional transfer opportunities for GPTC students who complete their technical education requirements, but wish to pursue a four-year degree and graduate school.
"Students enrolled in the Access 4 Achievement program will graduate prepared for today's job market, as well as ready to adapt to sudden shifts in market demands well into the future," said Simama.
The partnership is in keeping with CAU President Ronald A. Johnson's plan to equip every student with stackable credentials, which will make them more globally competitive upon graduation.
Johnson said the new initiative will assist students in graduating sooner with both high-demand technical skills and the soft skills, which are key indicators of long-term employment success.
Additional benefits students will receive from Access 4 Achievement include:
Broadened access for talented, college-bound students
Improved graduation rates due to support services and flexibility in program design
Immediate higher earning potential
Long-term, consistent employment stemming from an education that stresses flexible, adaptive thinking and skill development