Testingfg of Ads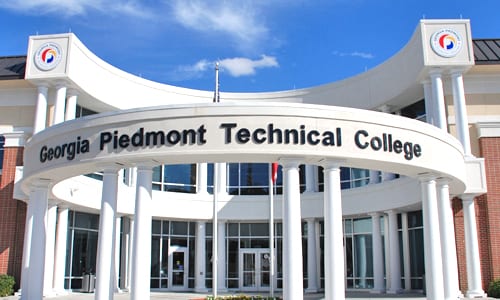 During its Jan. 25 awards luncheon, Georgia Piedmont Technical College announced  Crystal Wright, a nursing student,  as the college's 2018  Student of the Year.  In addition, paralegal instructor, Kye Haymore, was announced as Instructor of the Year.
"Ms. Wright and Ms. Haymore are both high achievers, and I am inspired by the respective journeys that brought them to our institution," said GPTC President Jabari Simama.  "These women will represent the college well as they compete for regional and state titles. I am enormously proud of them."
Each year, the Technical College System of Georgia (TCSG) administers the Georgia Occupational Award for Leadership (GOAL) and the Rick Perkins Award (formerly known as the Commissioner's Award of Excellence), which are bestowed respectively upon the Student of the Year and the Instructor of the Year from each of the state's 22 technical colleges.
GOAL nominees must have achieved academic excellence. In addition, they must also demonstrate that they are active in their communities.  "I am very honored and excited to have been selected as our college's 2018 GOAL Student of the Year," said Wright. "This is important to me because I have worked so hard to get to where I am today. I've had many setbacks, but I kept striving for what it is that I've wanted – and here I am today and so happy."
Nursing instructor, Kaye Henry, nominated Wright for the honor.
"I nominated Crystal because she's an excellent student! She has very good ethics and morals.  Although she has overcome a lot while in this program, she was determined to excel. Crystal participated in SkillsUSA and won First Place in the State competition. She placed Second in the National Skills USA competition.  She is an inspiration to me and I know she will be an inspiration to everyone else."
Wright was chosen from among 21 nominees.  As Georgia Piedmont's 2018 Student of the Year, Wright will now compete on the regional level this Spring.  Should she becomes a regional finalist, she will compete at the state level during a competition that is held each year in Atlanta.
Introduced in 1991, the Rick Perkins Award honors technical college instructors who are leaders in their fields and who make significant contributions to technical education.  This year, a screening committee comprised of Georgia Piedmont Tech's faculty and staff, conducted personal interviews with each of the college's four nominees.
"I had been working in the legal profession for 12 years before I was offered an opportunity to teach at Georgia Piedmont, which was then known as DeKalb Tech.  I was exhilarated by planning for class and sharing my knowledge with students," Haymore explained.  "For the first time in my adult life, I felt as if I had discovered my true calling.  Being named the Rick Perkins Award recipient is an honor I will always treasure," she stated.
Haymore is a nationally recognized expert on paralegal education.  Currently serving as president of the American Association for Paralegal Education (AAfPE), she gathers best practices from around the country and brings them to her students every time she teaches.
A full-time instructor at Georgia Piedmont since 2007, Haymore was involved in ensuring the college gained American Bar Association (ABA) approval for its paralegal studies program.