Testingfg of Ads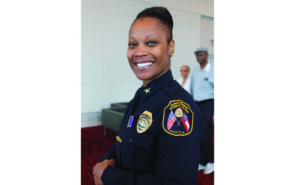 Georgia Piedmont Technical College (GPTC) is pleased to announce veteran law enforcement officer Melody Maddox was recently promoted to the position of Chief of Police.
During the past five years, Maddox has served as Assistant Police Chief and as a lead officer at Georgia Piedmont Technical College. Her duties included selecting and assigning personnel and training staff with regard to campus patrol operations. Additionally, she has held positions with the DeKalb County Police Department, the City of Atlanta's Police Department and the DeKalb County Sheriff's Department.
"I am delighted Melody Maddox has been named Georgia Piedmont's new police chief," said GPTC President Jabari Simama.   "She is a dedicated employee with more than 20 years of experience in planning and managing investigations, as well as coordinating police force activities. Her background in DeKalb County is extensive, and I am certain she will continue to serve our Georgia Piedmont community well."
As police chief, Maddox will be responsible for all aspects of planning and administration of the Georgia Piedmont police force, which supports the college's operations at three main campus locations as well as additional learning centers. Maddox is P.O.S.T. (Peace Officer Standard Training) certified and is also certified as a defensive tactics instructor. In addition to overseeing police operations, Maddox serves as an instructor on an as-needed basis for Georgia Piedmont's Law Enforcement Academy (LEA). The college's LEA is the first of its kind in the State of Georgia to receive accreditation by the Commission on Accreditation for Law Enforcement Agencies, Inc. (CALEA).
"Leading Georgia Piedmont's Police Department is truly an honor," Maddox said. "I'm humbled to have this opportunity to continue serving the students, faculty and staff of the college. I look forward to being a part of the leadership team that makes this institution the best it can be."
Maddox earned her bachelor's degree from Morris Brown College and a master's degree from Central Michigan University. In December 2016, she will complete a second master's degree in African-American Ministries from the Newburgh Theological Seminary. She is a member of St. Philip AME Church and has been selected as a member of Leadership DeKalb's Class of 2017.