Testingfg of Ads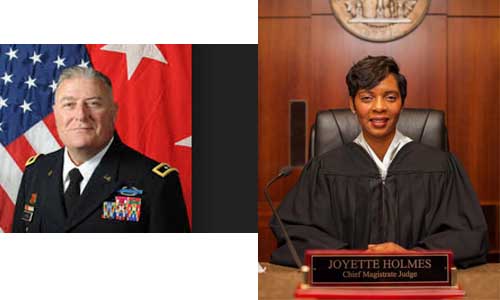 Two minorities made history in Georgia with appointments by Gov. Brian Kemp's on June 12.
Doraville Police Chief and Brigadier General John King was named Georgia's Insurance Commissioner and Safety Fire Commissioner, the first Hispanic to serve in that capacity.
Cobb Judicial Circuit's Chief Magistrate Judge Joyette Holmes was named the incoming District Attorney. She is the first African-American and first female to serve as District Attorney in Cobb. Holmes succeeds Victor Reynolds, who was appointed in February as director of the Georgia Bureau of Investigations by Kemp.
"John King is a decorated soldier, passionate community advocate, and devoted law enforcement leader with decades of experience," said Kemp. "As Georgia's next Insurance Commissioner and Safety Fire Official, John will put hardworking Georgians first by shaking up the status quo. He will restore faith in the Department of Insurance and will always do the right thing – even when no one is looking. Chief King has once again answered the call for public service. I know he will continue to be a bold leader and champion for the people."
"Judge Holmes is a servant leader in her community, and I am very excited to select her as Cobb's new District Attorney," said Kemp. "I know Joyette will put the safety of Cobb families first and always do the right thing – even when no one is watching."
A native of Mexico, King has worked diligently to keep his community safe. He created and implemented several youth education, crime-prevention, and anti-gang programs. To help build strong relationships with diverse populations, Commissioner King hired bilingual officers, placed numerous languages on his fleet of police cars, and partnered with the Hispanic Chamber of Commerce to enhance economic growth in the community.
King is a Brigadier General in the U.S. Army National Guard serving as Director of the Joint Staff for the Georgia DOD. He is the former Commander of the 48th Infantry Brigade Combat Team and has deployed to Bosnia-Herzegovina, Iraq and Afghanistan. During his long tenure in the military, King earned a Bronze Star Medal and Combat Infantry Badge, meritorious service medals, and a NATO award for his service in both Bosnia and Afghanistan. He also received the El Salvador gold medal for achievement in 2006.
King received his Bachelor of Arts degree in criminal justice and public administration from Brenau University and a master's degree in strategic studies from the U.S. Army War College.
Holmes is a native of Valdosta, Georgia. She earned dual bachelor's degrees in psychology and criminal justice. Holmes earned her law degree from the University of Baltimore School of Law in Maryland. Before her appointment as the Chief Magistrate Judge for Cobb County Judicial Circuit, Holmes served as prosecutor under District Attorney D. Victor Reynolds and Solicitor Barry Morgan. Prior to that, she represented clients in in her private practice.