Testingfg of Ads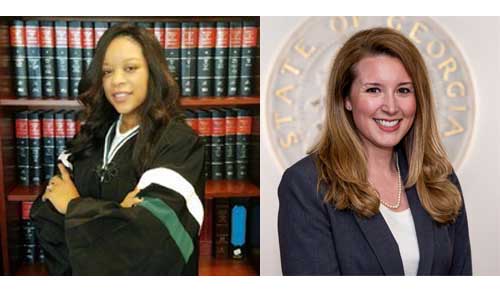 Tadia D. Whitner                                                   Jessica Simmons
Gov. Brian P. Kemp announced two appointments, selecting Tadia D. Whitner to serve on the Gwinnett Judicial Circuit Superior Court and Jessica M. Simmons to serve as Deputy Commissioner at the Georgia Department of Revenue.
Kemp said Whitner brings "invaluable leadership and legal expertise" to the bench having served as a prosecutor, private attorney, and judge for municipal and juvenile court.
"… I am honored to appoint her to the Gwinnett Judicial Circuit Superior Court where I am confident that she will govern her courtroom with the utmost integrity and impartiality," Kemp said in a news release.
Whitner received her bachelor's and law degrees from Howard University then went on to serve as an attorney and earned the rank of Captain in the U.S. Air Force and Air National Guard. Following her military service, Whitner prosecuted cases for the U.S. Virgin Islands Department of Justice and Florida Office of the Attorney General, represented clients through the Savannah Office of the Public Defender, and served as a staff attorney for the Chatham County Juvenile Court. From 2009 to 2011, Whitner was a solo practitioner at the Whitner Law Firm and later became the managing partner of Porter and Whitner Law Group, P.C. Whitner also served as an associate judge for the Municipal Court of Snellville and a juvenile court judge for Gwinnett County. She is a member of Leadership Georgia's Class of 2019 and involved in the Air Force Association, Alpha Kappa Alpha Sorority, Georgia Association of Women Attorneys, Gwinnett County Bar Association, National Council of Negro Women, and United Way of Greater Metro Atlanta. She is also a graduate of Leadership Gwinnett's Class of 2018 and award recipient, including Howard University Alumni Association – Atlanta Chapter's "Distinguished Alumni Award" and Phi Beta Sigma Fraternity – Gwinnett Chapter's "Outstanding Leadership Award." Whitner lives in Lawrenceville with her husband and two children.
Kemp also expressed his confidence in appointing Simmons as Deputy Commissioner of the Georgia Department of Revenue.
"Jessica Simmons is a trusted leader with a remarkable attention to detail and unwavering commitment to excellence," Kemp said. "Over the years, she has demonstrated effective leadership in every one of her roles, and I know that she will make a lasting, positive impact at the Department of Revenue by streamlining operations and eliminating burdensome red tape. Jessica is an invaluable asset to my administration."
Simmons, a native of Marietta, holds a bachelor's degree in Political Science from the University of Georgia. Simmons began her career in public service in the Office of the Georgia Secretary of State where she focused on customer service and constituent affairs. After working in Washington, D.C., Simmons returned to Georgia as the Assistant Director of the Georgia Elections Division. Most recently, she served as Chief of Staff in the Secretary of State's Office. Simmons and her husband, Matt, live with their daughter in Sandy Springs and attend St. Jude's Catholic Church.