Testingfg of Ads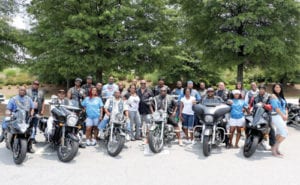 James Lewis, who heads the N the Zone Motorcycle Club, was on his way to the Mall at Stonecrest in Lithonia to help raise money for a young girl recovering from a heart transplant when he was struck and critically injured himself. Now, the child's mother and club members are praying that Lewis, nicknamed "Big Blue," will recover.
"We were all waiting for him to arrive for the charity ride and then we found out that he had been involved in an accident. He suffered internal injuries and had to be rushed to Grady Hospital," said Lanier Levett, a member of the club.
Orlando West, the club's vice president, told members to go on with the ride, even though Shanquelle Jernigan, the mother of the child who had the heart transplant, urged them to forgo the ride.
"She was very upset about what happened and very grateful that we were still willing to go," said Sheila Weaver, vice president of the N the Zone Social Club for women.
Levett said the accident happened on Sunday, June 11, near the railroad crossing at Old Covington Highway and Sigman Road at Interstate 20. The traffic lights were malfunctioning with one light stuck on red and the other stuck on green, Levett said. James was T-boned by a vehicle that had the green light, Levett said he learned.
"He (Lewis) was one exit away from the mall where we were all supposed to meet at the Macy's parking lot," said Levett. "He is usually early and when he had not arrived, I knew something was wrong."
Levett and West both went to Grady after learning that Lewis had been injured.
"He did not have any broken bones but because of his internal injuries, he is still in Intensive Care," said West.
West said he asked the club to carry out the ride because he knew how much the ride meant to Lewis who want to help Jernigan and her 4-year-old daughter, Jakiria Geter. Jernigan said she resigned from her job at a poultry plant to care for her daughter full time as the child recovers from the heart transplant.