Testingfg of Ads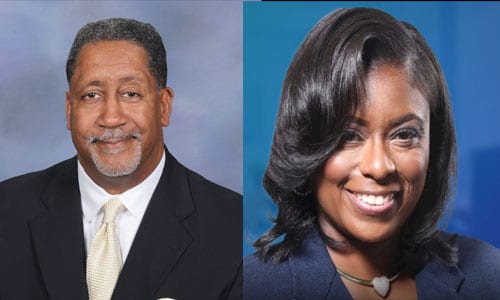 The Greater Lithonia Chamber of Commerce invites businesses to its first luncheon of the New Year. Stonecrest Mayor Jason Lary and Lithonia Mayor Shameka Reynolds will serve as keynote speakers in a presentation entitled "Tale of Two Cities."  The meeting will be held on Wednesday, Jan. 15, 11:30 a.m., at This Is It restaurant, 2853 Panola Road, Stonecrest.
Both Lary and Reynolds won elections in November. Lary was re-elected as mayor of Stonecrest for a second term, after defeating challengers Charles Hill, II and Diane Adoma three-way race. Lary, who is considered the father of Stonecrest, having spent fouryears pushing for its incorporation, was part of Stonecrest's inaugural City Council.  Citizens approved a referendum creating the city of Stonecrest in November 2017. Today, Stonecrest remains the largest municipality in DeKalb County, boasting 54,000 residents. Before Lary became mayor, he was manager of the City of Lithonia's amphitheater, where he created, under Jason Lary Presents, a popular outdoor jazz and R&B summer concert series.
Reynolds, who served eight years on the Lithonia City Council, defeated Cindy Thomas in a hotly-contested race where address fraud was alleged against her opponent. Lithonia, which is one-mile square, is one of DeKalb's smallest cities with about 2,000 residents.
Lary and Reynolds will discuss their visions for their neighboring cities, along with updates on their communities.
Reservations are encouraged.  In addition to providing keynote speakers, the meeting offers members and guests an opportunity to network.
Chamber members are free with advance registration or $20 at the door. Non-members are $25.  To register, go to www.greaterlithoniachamber.com.