Testingfg of Ads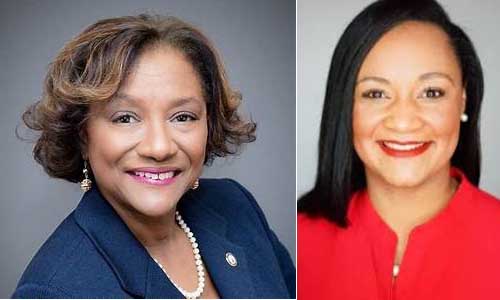 State Rep. Karen Bennett         Democratic Party of Georgia Chairwoman Nikema Williams
Georgia's black lawmakers are blasting the U.S. Supreme Court's 5-4 decision to remove itself from adjudicating partisan gerrymandering cases, saying that politicians now have a "green light" to continue taking advantage of manipulating the boundaries in the redistricting process.
The Georgia Legislative Black Caucus (GLBC) issued a statement calling the  June 27 decision another step toward disempowering voters:
"Today's U.S. Supreme Court (5-4) decision not to adjudicate gerrymandering cases sends a clear and present warning that politicians will select their voters, versus the right of voters to select their politicians," State Rep. Karen Bennett, who chairs the GLBC, stated. 
The leadership of the GLBC views this ruling as a green-light for partisan politicians to continue taking advantage of the annual redistricting process. The court set aside the principles and values of freedom and equality in today's ruling. 
This era of judicial restraint in the political process continues to disempower voters. First, Citizens United v. Federal Election Commission, then Shelby County v. Holder and today's decisions are clear indications of the courts being out of touch with disenfranchised voters. Since Shelby County v. Holder, several states, most notably Georgia, have gone to great lengths to disenfranchise voters using techniques such as exact match, closure of polling locations and broken voting machines to name a few. The court's decision only encourages these nefarious activities with its current practice of judicial restraint."
The court's conservative majority wrote that federal judges have no place in determining state electoral maps and that that was a job for voters and elected officials.
In the majority opinion, Chief Justice John Roberts wrote the following:
"Federal judges have no license to reallocate political power between the two major political parties, with no plausible grant of authority in the Constitution, and no legal standards to limit and direct their decisions."
With Republicans currently controlling both chambers of the General Assembly and every statewide office, the GOP majority holds the power to draw district lines to their benefit. Democrats could do the same if they overtake the Legislature in the 2020 elections.
The GLBC says getting people to participate in the 2020 U.S. Census is now more urgent than ever before. The census, the caucus said, will be key in determining how Georgia's lawmakers prepare to redraw the state's legislative and congressional districts. The caucus is urging everyone to participate:
"As the 2020 U.S. Census approaches, GLBC leadership asks that its members and constituents be ignited by this ruling. We ask that communities in urban and especially rural Georgia ensure they are counted in the census by participating in the process. We are willing to do all we can to ensure each and every Georgian is counted in the 2020 U.S. Census to ensure all are fully represented when redistricting occurs," Bennett stated.
Democratic Party of Georgia Chairwoman Nikema Williams also released a statement regarding the gerrymandering decision:
"Today's court decision is a betrayal of the American voter, who has long been victim to Republican power grabs from purging the voter rolls to partisan gerrymandering. Republicans have once again shown their hand: they will always choose power over our democracy, and now the highest court in the land won't stop them. It has never been more important to elect Democratic state legislators who will fight for our values."
Williams also criticized the Supreme Court's decision on the Census citizenship question:
"Adding a citizenship question to the U.S. Census was a blatant attempt to scare people away from making their voices count, and the Supreme Court saw right through it. Republicans will do literally everything possible to stop the American people from exercising their rights, because they are terrified of the result—Republican loss of power. Now we must continue the fight for a fair census, and free and fair elections across the country by electing Democrats to protect our institutions and our democracy," Williams stated in a news release.