Testingfg of Ads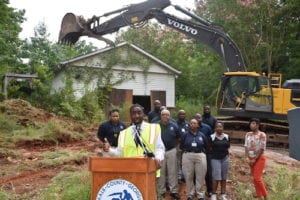 DeKalb County is continuing its campaign to wipe out blight, taking a tougher stance on code enforcement and utilizing the court system to clean up problem properties.
Interim CEO Lee May assisted in the demolition on Aug. 4 of a fire-damaged, vacant home on Walnut Ridge Court in Stone Mountain. The demolition of the property is the result of collaborative efforts of the DeKalb County's Code Enforcement Division and Legal, Community Development and Sanitation departments.
"This demolition shows DeKalb County's commitment to address blight in our communities in order to make DeKalb a better place to live, work and play," said May. "Beautification of our county is a priority that we will continue to address with additional demolitions in the upcoming months."
County officials first issued warning notices for high grass and weeds and open storage of trash and debris for the property on Walnut Ridge Court in February 2012. Eight court citations were issued in April 2012 and $4,000 in fines were assessed in Recorders Court to the owners of record.
In February 2014, as a result of a structure fire, code enforcement staff met with the property owner and issued 9 new court citations. The owner failed to appear in court, a judgment of $4,500 was assessed, another FTA warrant was issued and a lien was placed on the property.
In December 2014, Code Enforcement commenced with an In-Rem action and a final order to demolish was awarded to DeKalb County to proceed with demolition of the structure in May 2015.
This year, the county has demolished four structures with three additional structures that are currently being demolished:
7043 Pine Mountain road, Lithonia
7037 Pine Mountain Road, Lithonia
1328 Biffle Road, Stone Mountain
County officials say they expect to demolish at least 20 structures by the end of 2016.