Testingfg of Ads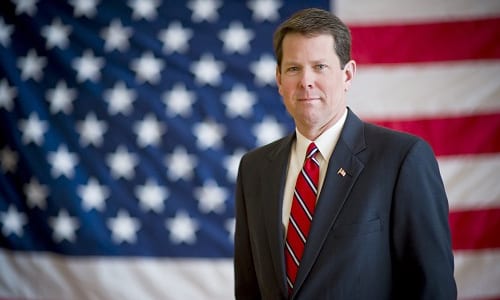 ATLANTA–Gov. Brian Kemp announced today (May 28) that he is renewing Georgia's  State of Emergency order for the third time, extending the public health emergency order through July 12 to continue to fight against COVID-19.
Kemp also announced more sectors that would open incrementally across Georgia as the state rebuilds its economy.
Here's a summary of what the governor said during the news briefing, which was live-streamed from the Georgia Capitol at 4 p.m.:
"…On March 14, 2020, I issued an Executive Order declaring a Public Health State of Emergency in Georgia due to the impact of COVID-19. To continue our fight against this dangerous virus and allow for enhanced emergency response efforts, I have twice used my authority to renew the State of Emergency.
"Today, after consultation with Lieutenant Governor Duncan and Speaker Ralston, I have decided to renew the State of Emergency for a third time through 11:59 PM on July 12, 2020. This declaration plays a critically important role in our battle against COVID-19. It allows for enhanced partnerships between the private and public sectors for our healthcare infrastructure, procurement of supplies, and coordination across all levels of government. As we continue to take measured steps forward, the Public Health State of Emergency provides flexibility for a cohesive response across government and within communities across Georgia," Kemp said.
The shelter in place for Georgians 65 and older and those who are  medically fragile will remain in place through June 12, the governor said. People in those categories should restrict themselves to leaving their residences only for essential needs, he said.
The governor said he would continue to encourage houses of worship to hold online services or drive-n services.
"Many people have asked for guidance on attending in-person services at places of worship, especially in light of the President's call to action for governors to reopen churches and religious facilities. Here in Georgia, we never closed places of worship, but we encouraged congregations to hold online or drive-in services to mitigate the risk of exposure. Now, many churches and religious institutions are beginning to reopen their doors for traditional services, and we ask Georgians to continue to heed public health advice if they decide to attend in-person. Please use social distancing, wash your hands, protect the elderly and medically fragile, and prioritize your health. Thank you again to the faith leaders who answered the call and held remote services as we battled the spread of coronavirus. Your leadership saved lives.
 Beginning May 31:
Overnight summer camps can begin reopening in Georgia, so long as they meet 33 specific criteria in the governor's executive order.
Beginning June 1:
Summer schools can reopen if they meet 11 mandatory criteria to prevent the spread of the coronavirus.
Gatherings can grow from 10 in a single location to 25 people spread six feet apart. Small weddings, recreation sports and similar events will resume, according to new guidelines.
Bars and nightclubs can reopen, if they comply with strict sanitation and social distancing rules. To open their doors, bars and nightclubs must meet 39 mandatory measures to ensure patron well-being. Just to name a few, those include screening workers for illness, limiting the number of people in the building to 25 people or 35 percent of total occupancy, requiring the facility to be thoroughly and regularly sanitized, only serving drinks to seated patrons or those in designated areas, limiting party size to six people, and preventing patrons from congregating. To provide clarity for banquet facilities, private event facilities, and private reception venues, they must adhere to same guidelines as restaurants and dine-in services so they have clear directives for operating.
Professional sports teams and amateur leagues that engage in practices or other in-person operations must operate by the rules or guidelines of their respective sports league. In addition, all amateur sports that continue in-person operation must follow the guidelines for non-critical infrastructure organizations.
Beginning June 12:
Operators of amusement park rides, traveling carnivals, water parks, circuses, and other temporary amusement rides can begin operation. They must comply with 33 mandatory requirements in addition to all requirements for non-critical infrastructure businesses.
Kemp said live performance venues would remain closed.
"At this time, live performance venues will remain closed. I know these closures are tough on business owners, but we will continue to watch the data to ensure the health and safety of our citizens. We are working closely with business owners, associations, and stakeholders to prepare for the future," Gov. Kemp said.
Kemp also said Georgians should keep important medical appointments.
"Finally, we are urging all Georgians not to hold off on important medical appointments. I cannot stress this enough: do not risk a bad health outcome by postponing necessary check-ups, screenings, and procedures. Healthcare systems are having to furlough workers in the middle of a pandemic due to decreased demand for traditional services. Please get these appointments on your calendar, and help us get our healthcare providers back to work. Now, we will take questions."