Testingfg of Ads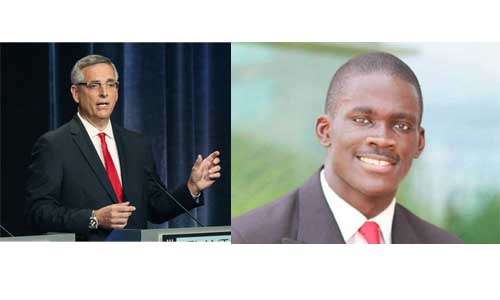 L-R: Secretary of State Brad Raffensperger and Rev. James Woodall, State President of the Georgia NAACP
State NAACP vows to challenge removals  
Georgia voters who haven't participated in elections in years could soon lose their right to vote.  About 330,000 inactive Georgia voters will be removed from the rolls ahead of the 2020 elections, Secretary of State Brad Raffensperger has announced.
Raffensperger said the updates are required by federal and state law in order to ensure the state has the most up-to-date voter information and to cut down on fraud. Election officials plan to begin mailing notices to the last known addresses of the individuals next week.
"Election security is my top priority," said Secretary Brad Raffensperger. "Accurate and up-to-date voter rolls are vital to secure elections, but at the same time I want to ensure that anyone potentially affected by this routine process has notice and opportunity to update their information. That is why my office is releasing the full list to ensure that people who are still eligible voters can update their information."
The Georgia NAACP said it plans to challenge the purge. In 2017, the secretary of state purged 534,000 Georgians from the voter registration rolls—the largest removal in U.S. history. The civil rights organization said a disproportionate amount of those removed from voter rolls were people of color.
"People being removed for simply not voting is unethical and undemocratic. We should be investing in ways to make voting easier, not harder. We pledge to utilize our resources to not only ensure that no voter is unlawfully purged but also commit to challenging the legal framework of the practice altogether," said the Rev. James Woodall, State President of the Georgia NAACP.
The upcoming purge will reduce the voter rolls by about 4 percent, said Deputy Secretary of StateJordan Fuchs office.
"States like Nevada, Minnesota, Colorado, Arizona, Illinois, Maryland and Vermont have similar rates of cancellations due to people moving as Georgia," Fuchs said. "The 4 percent rate that we are seeing is similar to what states across the country are seeing."
In 2019, Georgia lawmakers passed legislation requiring election officials to mail a personalized notice to the last known address of people prior to removing them from the voter rolls due to a change in address. Raffensperger said he also plans to post the list of people online.
Both federal and state law require election officials to conduct maintenance on registration records where the person has died or moved to a different address. Georgia law specifically requires elections officials to remove registration records that have been in "inactive" status for two general elections and have had no contact with election officials during that time.
"Accurate voter lists limit confusion and delays at polling places on Election Day, and make sure voters get the correct ballot," said Chris Harvey, Elections Director for the Secretary of State's Office. "Accurate registration lists also allow county election offices to plan for polling place equipment and staffing needs. Accurate voter lists reduce the opportunities for mistakes or fraud."
Election officials will mail notices to the last known address of people who have been in "inactive" status for more than three years and had no contact with election officials during that time. A registration is moved to "inactive" status when the person fails to respond to a pre-addressed, postage paid confirmation card asking them to confirm or update their information. The confirmation card is required to be sent to people who have filed a National Change of Address Card with the U.S. Postal Service indicating that they have moved to a new address, had election mail returned as undeliverable, or did not have any contact with election officials (including not voting) for the three prior years.
Anyone can search the list of registrations that are subject to cancellation. Only information that is public pursuant to state law is included. If your name is on the list and you are still an eligible Georgia voter, you can update your registration at https://registertovote.sos.ga.govor contact your county elections office. You may also respond to the confirmation card that will be included with the notice, but keep in mind that the notice is mailed to your last known address of your voter registration, which may not be accurate if you have moved and not updated your registration. Any registered voter can check their registration information to confirm it is accurate and up-to-date at https://www.mvp.sos.ga.gov.