Testingfg of Ads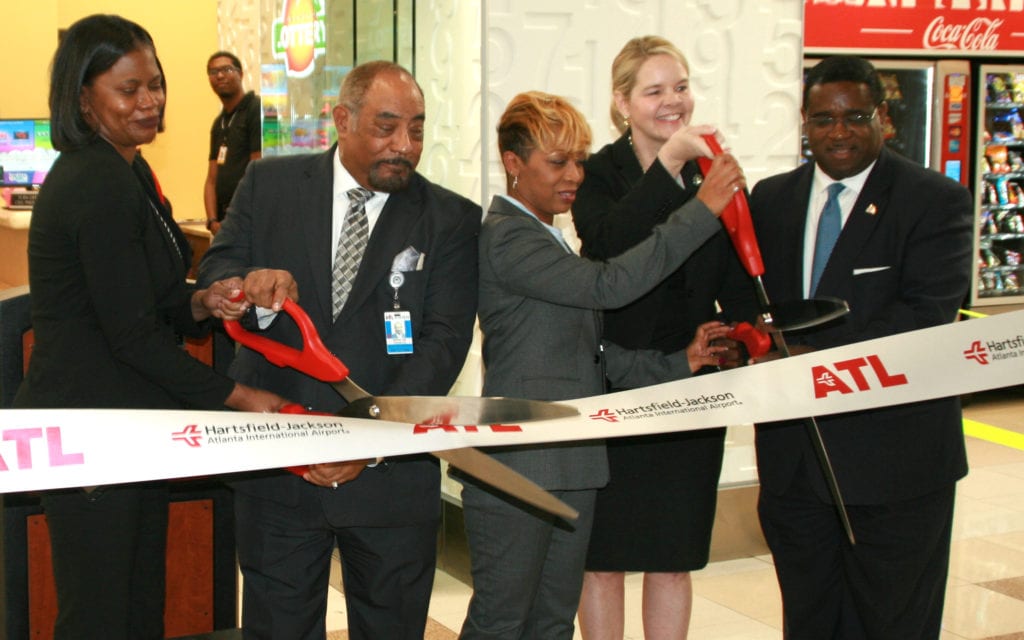 Pictured from left to right are Erica Owens, Georgia Lottery Vice President of Sales Operations; Charles E. "Chilly" Ewing Sr., Hartsfield-Jackson Atlanta International Airport Director of Concessions; Deborah Gatlin, Georgia Lottery Sales Operations Manager; Gretchen Corbin, Georgia Lottery President and CEO; Michael L. Smith, Hartsfield-Jackson Atlanta International Airport Senior Deputy General Manager.
ATLANTA – The Georgia Lottery Corp. celebrated the grand opening of its new store at Hartsfield-Jackson Atlanta International Airport with a ribbon-cutting ceremony on March 7. Located on Concourse T, this is the Georgia Lottery's first retail location at the airport beyond security checkpoints.
"We want to be where people are, and what better place than 'The World's Busiest Airport?'" Georgia Lottery President and CEO Gretchen Corbin said. "There's no other venue in the state that can match the volume of consumers that Atlanta's airport provides. Our new airport location will generate additional dollars for HOPE scholarships and grants, including the Zell Miller Scholarship, as well as lottery-funded Pre-K."
The Georgia Lottery has operated two kiosks in North and South baggage claim since November 2006. Those combined locations rank as the No. 2 retailer in the state in lottery sales.
The Georgia Lottery's new Concourse T store will reach passengers with connecting flights, which account for approximately two-thirds of the airport's travelers.
As with the baggage claim kiosks, players at the Georgia Lottery's Concourse T store will be able to purchase scratch-off and draw game tickets, as well as claim prizes up to $25,000.
Since its first year, the Georgia Lottery Corp. has returned more than $20.5 billion to the state of Georgia for education. All Georgia Lottery profits go to pay for specific educational programs, including Georgia's HOPE Scholarship Program and Georgia's Pre-K Program. More than 1.8 million students have received HOPE, and more than 1.6 million 4-year-olds have attended the statewide, voluntary prekindergarten program.