Testingfg of Ads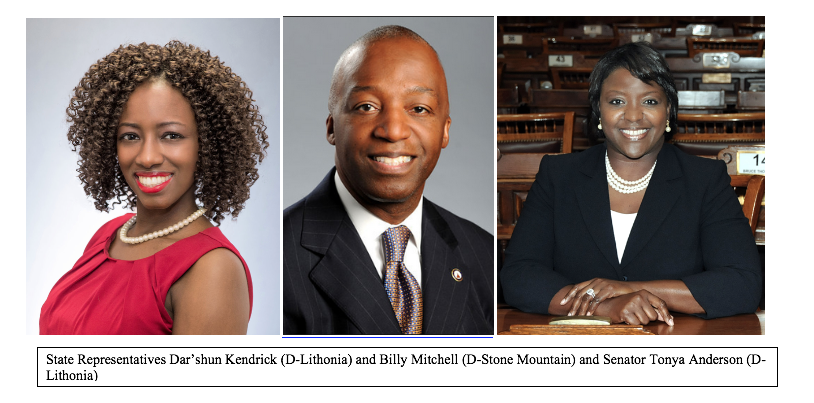 State Representatives Dar'shun Kendrick (D-Lithonia), Billy Mitchell (D-Stone Mountain) Debra Bazemore (D-Riverdale), and Sam Park (D-Lawrenceville), along with Senators Tonya Anderson (D-Lithonia) and Nan Orrock (D-Atlanta) recently attended the 2019 Public Leadership Institute's (PLI) State Strategy Forum National Conference. This conference invites about 120 state legislators from over 40 different states to participate in policy and leadership sessions, which are designed as practical and real-world as possible.
During the three-day conference, which was held in Washington, D.C., July 12-14, local  legislators led some of the policy and leadership sessions. Kendrick spoke on "All In for Women's Health: Protecting and Expanding Abortion Rights;" Mitchell spoke on "Keep Black Families and Communities Strong;" Bazemore spoke on "Skills Session: Preparing to Win Advocacy Training and Orrock moderated a panel on "A Path to Prosperity: Policies that Support Working Families."
Kendrick, who was attending the conference for the first time, said she was happy to participate as a panel on protecting abortion rights, a subject that she is passionate about.
"There were legislators from all over the nation that I was able to connect with and share ideas," Kendrick said.
Mitchell said the conference gave him an opportunity to share his perspectives on issues with colleagues and peers from across the nation.
"My time at the conference was all about making policy to the benefit of all of our constituents," Mitchell said.
Bazemore said the information at the conference was relevant and helpful.
"This Public Leadership Conference was packed full of great speakers and relevant information," said Bazemore. "We came away equipped with helpful strategies regarding current situations that all of us face in various parts of the country. I believe these strategies will enable us to effectively move towards a more positive outcome for our constituents."
Park said, he too, found the conference was very informative.
"We learned a great deal during the sessions and by exchanging ideas with other legislators, which will help shape our policy discussions next session in Georgia," said Park.
Anderson said she was rejuvenated by attending the conference.
"'This was my first time attending PLI, and the experience of having holistic, productive conversation on a larger scale was a 'winning moment,'" said Anderson.
Orrock said she planned to share information with the Senate Schools Study Committee.
"The State Strategy Forum provided a wealth of information on policies that can move Georgia forward," said Orrock said. "Investing in community schools, for example, is already getting positive results in many states. I 'll share those models in our Senate Community Schools Study Committee."
The Public Leadership Institute is a nonprofit, nonpartisan policy and leadership center organized to raise public awareness on key issues of equity and justice and to develop public leaders who will improve the economic and social conditions of all Americans.