Testingfg of Ads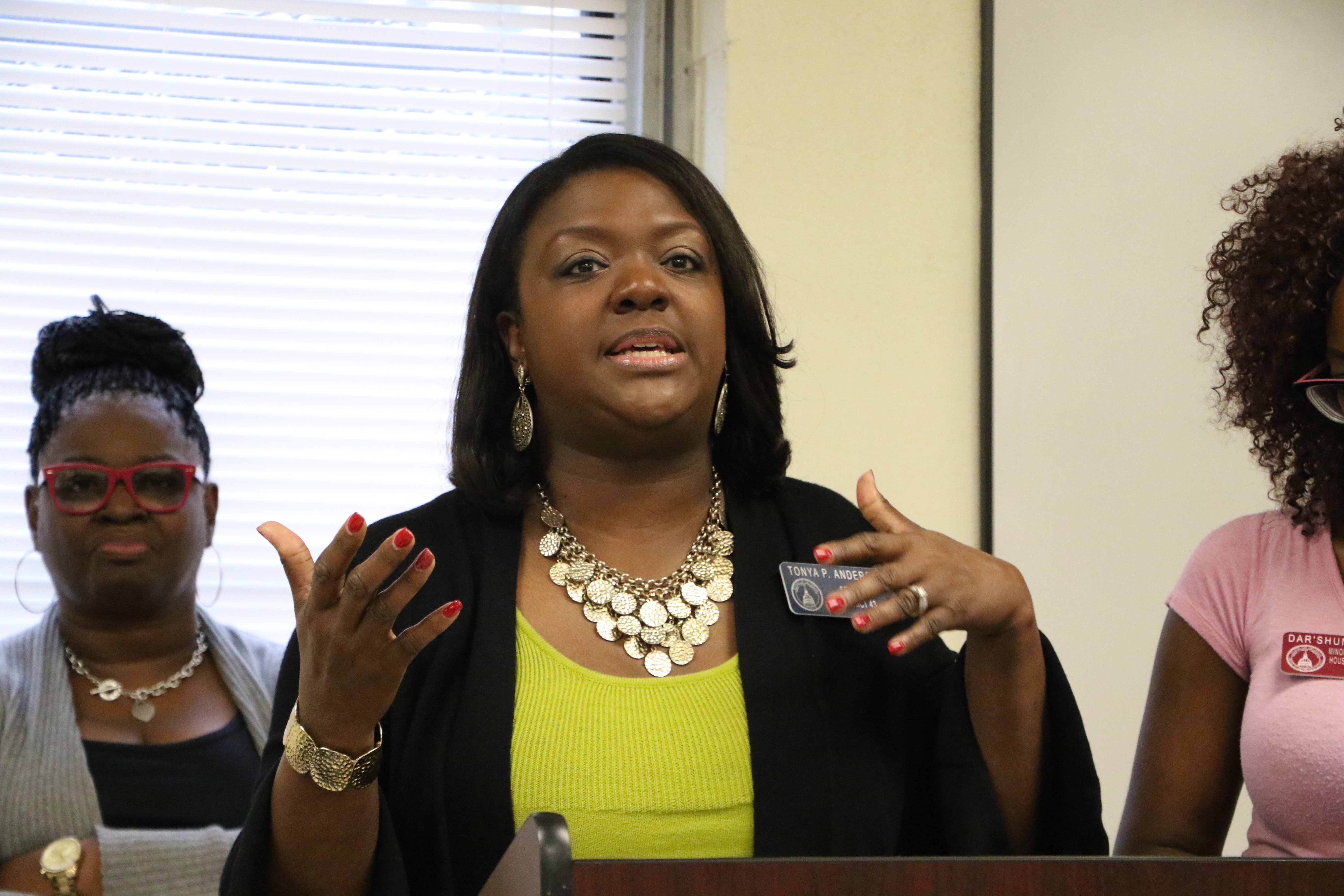 State Sen. Tonya Anderson, District 43, discussing the hair bill at the DeKalb Cultural Exchange community breakfast meeting on Jan. 11.
Left to right: State Sen. Nikema Williams posted the "Professional Hair" graphic g on her Facebook page to demonstrate the versatility of black hair styles deemed suitable for the workplace.  James "Jamie" Lary(center) said men are not exempt from hair discrimination. Rockdale County hair stylist Brittany Bryant said the majority of her clients come to her in search of hair solutions that consider style, function and professional appeal.
By Mackenzie N. Morgan
Staff Writer
State Sen. Tonya Anderson, a Democrat who represents Georgia's District 43, has filed a bill to stophair discrimination in the workplace, schools and for those seeking housing. If passed, SB 286 would protect people who have braids, locks, twists and other textured styles typically associated with African Americans.
Violators could face lawsuits, civil fines and various penalties, if found guilty of discriminative practices concerning hair. Similar legislation has been passed in California, New York and New Jersey, according to news outlets.
State Sen. Nikema Williams, a Democrat who represents District 39, said she is working with Anderson on the bill known as CROWN (Creating A Respectful and Open World for Natural Hair). Anderson recently discussed the bill at the DeKalb Cultural Exchange community breakfast meeting.
"It means you can't be discriminated against at the workplace, schools, and other places. Our hair is an expression of who we are. If the baby wants to wear beads in her hair to school, then she should be able to wear those beads with her braids. No one should ask you when are you going to take it down," Anderson said.
Anderson said support for CROWN is spreading across the nation.
"The wave is going to our 50 states—from California to Florida, which dropped the bill in November. We are going to make this a movement," said Anderson.
Williams, who began holding conversations around hair discriminatory practices last Spring, said she knew it was time to take the conversation to another level after a non-person of color and fellow legislative colleague openly commented on Williams' hair after she came to work with her hair straightened, saying that the style was more professional and a better fit than the braids she had recently taken out. Williams said she informed the House member that she planned to get braids again because the style was healthier for her hair.
"She meant it as a compliment, but it wasn't a compliment," said Williams. "I don't need to assimilate and press my hair out on a daily basis," said Williams.  "We've been told in order to be successful we shouldn't wear our hair the way it comes out of our scalps. I'm not asking you to make your hair look like mine, but don't ask me to make mine look like yours."
Williams said that while hair-based discrimination is a more subtle form of discrimination, it often appears in stringent company dress code requirements under the guise of professionalism.
Williams and Anderson represent a growing number of people speaking out against what is considered "mainstream" and "desired" when it comes to black hair. Opponents of conformity say pressing or chemically straightening black hair damages not only the health of one's hair, but the culture and the spirit of those with kinky hair textures.
"Our hair is an expression of who we are, and conforming is almost no longer the norm," Anderson said.
State Rep. Doreen Carter, whose District 92 includes parts of DeKalb and Rockdale counties, praised the bill. Carter, who has worn natural hairstyles for years, said she has been ostracized in both, the corporate sector as well as in the political arena, over her hair.
"I commend State Sen. Tonya Anderson and State Sen. Nikema Wiiliams for picking up the mantle to fight this kind of discrimination and I look forward to advocating with them in supporting this bill," said Carter.
Carter said that when she was running for Secretary of State in 2014, she was told by colleagues and others that she needed to change her hairstyle.
"I had blonde locks at the time. I was told, 'You have to tone that down. You're campaigning in the deep South,'" Carter recalled. "I eventually cut my locks and begin to wear my hair natural (short Afro). They didn't like that either. Black people's hair has been an ongoing conversation. It's ridiculous. Our society has deemed what's considered professional as straight hair."
Hair in the black community has been a hotly contested topic untabooed by films documenting the black hair experience such as Chris Rock's 2009 documentary "Good Hair" and the 2018 dramedy "Nappily Ever After" in which the film's protagonist attempts to illustrate the black woman's plight in navigating what is considered to be socially acceptable and desirable hair.
Rockdale County beautician Brittany Bryant of First Generation Hair Salon welcomed the new hair bill as a sign of changing times.  Bryant, whose customer base consists mainly of Black women with natural hair, said that despite the rise of the natural hair demographic, hair anxiety is real.
When choosing hair styles, she said her clients face a barrage of hair concerns ranging from general hair health issues such as dryness and breakage to more complex issues such as style longevity, the capacity to withstand sweat during exercise, and styles requiring minimal upkeep – on top of selecting styles that are corporate ready.
"A lot of my clients wear protective styles such as braids and weaves because they don't have the time or desire to spend copious amounts of time in the bathroom every morning. These are women on the go who wish to express their unique personalities and look neat," said Bryant. "Managing other peoples preconceived biases when it comes to black hair is just another thing to worry about."
Research company Mintel estimates that African Americans spend over $2.5 billion annually on hair care, not including products such as hair accessories, wigs and electric styling products. Despite the economic evidence that demonstrates a desire and commitment to personal appearance concerning hair, kinky textured people still face disproportionate levels of criticism and discrimination at jobs, housing and even schools.
On the Martin Luther King Holiday, tension erupted at a public meeting regarding a Texas teen in the Barbers Hill School District who was banned from walking in his high school graduation in three months if he doesn't cut his hair to meet the district's hair policy. An official of the Barbers Hill School District said the decision is not about the student's hair locks or race, but the length of the teen's hair.
"Our policy limits the length. It's been that way for 30 years," said Barbers Hill School Board Superintendent Greg Poole
In December, a 16-year-old New Jersey student was publicly humiliated when he was forced to cut his locks moments before competing in a wrestling match. A referee demanded the teen cut his hair or forfeit his chance to participate in the tournament. The student's hair was cut on site.
The son of recently re-elected Stonecrest Mayor Jason Lary, James Lary, weighed in on the hair conversation. Lary, 22, said the proposed law gives him hope for his generation, in particular black men.
"I think this bill is going to be huge for women, but will be of significant value to men as well.  A lot of men are becoming more expressive when it comes to hair preference, especially in the South. We've been told for too long that wearing our hair is "too ethnic" and that in order to succeed and be accepted, we need to conform," said Lary, who works as an insurance sales agent.
Lary said that men are not exempt from hair biases and may actually receive harsher judgment than women.
"We live in a society where we are judged on our appearance long before our qualifications are even looked at. Hair is really circumstantial – sometimes I wear it up and sometimes it's braided. Right now, I'm trying to get it healthier so I'm wearing it more free these days – and that shouldn't affect my ability to qualify for housing or a job if I'm qualified," said Lary.
Sen. Williams is encouraging citizens to share their hair discrimination stories with her on social media @Senatornikema.
"We need your stories. We can't do this without your voice," said Williams.