Testingfg of Ads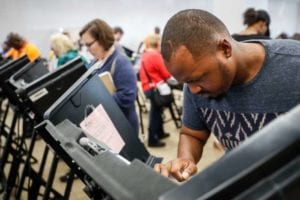 ATLANTA—Georgia set an all-time record in votes cast in the Nov. 8 elections with a 76 percent turnout. With more than 4 million votes cast, Georgia surpassed its 2008 record of 3.9 million votes.
In DeKalb County, 71.94 percent (302,036) of its 419,871 registered voters cast ballots in Tuesday's general election.
The turnout in Rockdale County, where there are 50,003 registered voters, was 76.32 percent or 38,161 ballots cast, unofficial results show.
Secretary of State Brian Kemp said the momentum in Georgia has building since the Presidential Preference Primary was held on March 1 and 2,055,617 ballots were counted statewide.
This momentum, Kemp said, continued through the General Primary in May to the summer conventions and campaigns of the fall. In the 45 days prior to the election, 2,418,550 Georgians cast early ballots with 209,147 voting by mail and 2,209,403 in person.
Over the next few days, counties will finalize tabulation of provisional ballots.
Election results posted on the Secretary of State's office website are unofficial until the state canvass is certified by Tuesday, Nov. 15. The results provided online before certification do not include provisional ballots or write-in candidates.
For more information on the elections, visit sos.ga.gov.