Testingfg of Ads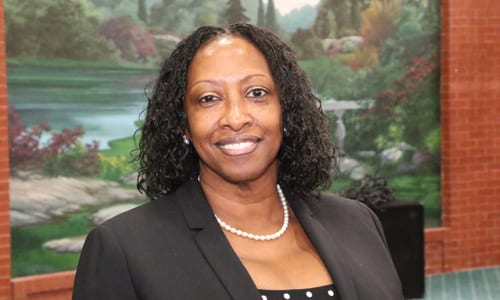 By Valerie Morgan
Attorney Genet McIntosh Hopewell has announced her candidacy for DeKalb Superior Court Judge, challenging incumbent Courtney Johnson for the seat. The General Primary election is May 22.
The longtime attorney said she is running to bring more fairness and compassion to the bench—something, she says, is woefully lacking under Johnson, who was elected in 2010 and re-elected in 2014. Hopewell said Judge Johnson does not treat people with dignity, pointing to an incident involving a public defender who urinated in her chair because Judge Johnson refused to allow her to take a bathroom break during a murder trial last June. The Georgia Judicial Qualifications Commission is investigating the incident.
"When you have authority, you have to have the appropriate judicial temperament," said Hopewell. "I'm going against Courtney Johnson because I think there is a problem in that division and that's what I want to address. "
Hopewell also criticized Judge Johnson's handling of the case involving former DeKalb CEO Burrell Ellis. She said the judge disrespected former U.S. Ambassador Andrew Young, who was a character witness for Ellis.
"He (Young) was treated with so much disrespect. The people who come to court—they're someone's mother, someone's daughter, somebody's son, father. I would not want my father to be treated the way he (Young) was treated," said Hopewell.
The Georgia Supreme Court reversed Ellis' conviction after finding that Judge Johnson restricted testimony that could have helped clear Ellis.
"We've lost a lot of money by decisions that have been reversed," Hopewell said.
Hopewell said if she is elected, she plans to reduce barriers in the judicial system and lessen confusion. She said she has seen many defendants who are foreign to the system, going to the wrong locations.
"One thing I do not like is when people are given hoops to jump through. You have to be compassionate with people. Some of them are new and some of them are seasoned but by and large, they don't know how the system works," said Hopewell. "We can do better. I want to change that."
A native of DeKalb County, Hopewell grew up in Atlanta's Edgewood community. She graduated from Murphy High School (now Crim High School) and completed her undergraduate studies at University of Notre Dame. She earned her Juris Doctor degree from the Columbus School of Law at the  Catholic University of America in Washington, D.C.
Hopewell's legal career began with a clerkship for Judge William Daniel in Fulton County Superior Court. In 1984, she became the first African-American to serve as an Assistant County Attorney for DeKalb County. After leaving the county attorney's office, she became an Associate Attorney with Arrington & Hollowell, a law firm founded by pioneer civil rights attorney, Donald Lee Hollowell and long-time Atlanta City Council President Marvin Arrington.
Hopewell additionally served as a Magistrate Court Judge, a Juvenile Court Judge and as Recorder's Court Judge, all in DeKalb.
She acknowledges it may be difficult to unseat an incumbent but she has a positive outlook—and several early supporters including DeKalb County Commissioner Mereda Davis Johnson, who is one of her partners at Johnson Hopewell Coleman, LLC. Commissioner Johnson was among a host of supporters who attended a news conference to announce her bid for judge.
"I think the citizens of DeKalb County deserve better than what this Judge has offered us during her tenure on the bench."