Testingfg of Ads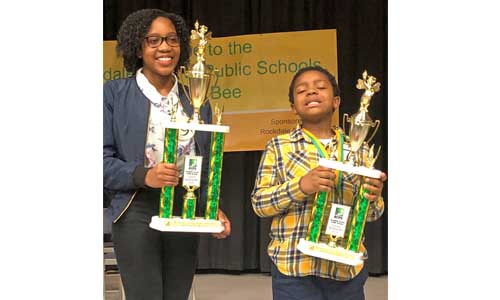 Kennedy Boothe, an eighth grader at General Ray Davis Elementary School, is the 2019 Spelling Bee champ for Rockdale County Public Schools.
After many nail-biting rounds eliminating contestants, Boothe correctly spelled "hallucinations" and "conspicuous" to win the district trophy.  The 2019 RCPS Spelling Bee was held at Memorial Middle School on Feb. 8, and sponsored by the Rockdale Association of Educators.
The runner-up in the competition was Zaccheus Fairman, a fourth grader at C.J. Hicks Elementary.
Each RCPS elementary and middle school entered the top speller in their school to the district competition. Here are the names of the other contestants:
Kina Weston, Barksdale Elementary
Jahmail Hudson, Conyers Middle
Zaccheus Fairman, C. J. Hicks Elementary
James Nusser, Edwards Middle
Brooke Weston, Flat Shoals Elementary
Jalen Gist, Hightower Trail Elementary
August Haynes, Honey Creek Elementary
Gabrielle Christie, J.H. House Elementary
Cameron Baquet, Lorraine Elementary
Aina Bandele, Memorial Middle
Cadence Carson, Peek's Chapel Elementary
Traci Rodriguez, Pine Street Elementary
Brennan Speights, Shoal Creek Elementary
Dani Donald, D.L. Sims Elementary