Testingfg of Ads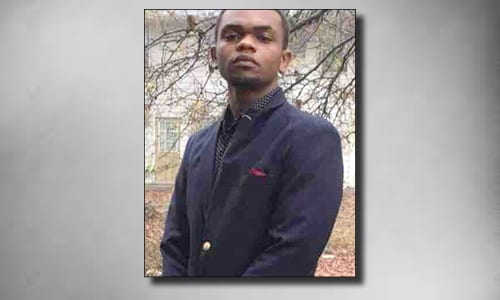 By Valerie J. Morgan 
Shali Tilson, 22, died of a blood clot due to dehydration while he was in custody on misdemeanor charges for nine days at the Rockdale County Jail, the Georgia Bureau of Investigation (GBI) has determined. 
The autopsy, conducted at the GBI Crime Lab in Decatur, stated that Tilson died on March 12 as a result of "pulmonary thrombi due to dehydration." The autopsy also found that Tilson had "subdural hemorrhaging" and he was alone in his cell when he died. The manner of death was undetermined, the GBI said in a news release on May 24.
Attorney Mawuli Davis, who is representing the Tilson family, said he was outraged by the GBI's findings. Tilson was arrested on March 9 by Conyers Police on misdemeanor charges of disorderly conduct and obstruction of a law enforcement officer. 
"The community should be outraged. How do you get arrested on misdemeanor charges and die in a cell alone?" Davis said. "He was severely dehydrated. This is a horrible torturous way to die. They (jail attendants) let him deteriorate to the point of death."
Rockdale Sheriff Eric Levett said the case is being forwarded to the District Attorney and he would continue to fully cooperate with authorities.  
"My condolences are with the family and their friends. I'm not going to hide behind anything. If anyone under my supervision has done anything, they will be held accountable," said Levett. "We will continue to cooperate with the GBI and the District Attorney. I'm waiting to review the GBI's report and our internal investigations report, along with video footage. The reports will be thoroughly investigated and I will take direction from our attorney."  
Tilson's family was briefed on the investigation and autopsy during a meeting on May 14, the GBI said.
Tilson's mother, Tynesha Tilson, has said she is heartbroken over her son's death. 
"My son was a good kid who graduated from Rockdale County High school in 2014," the mother said. She said her son did not have any health issues when he was arrested. 
Davis said Tilson was put on "suicide watch" for a mental health crisis, according to the GBI's report.  He said the GBI said Tilson had six incidents of "use of force" while he was in custody at the jail.
"Basically, they got physical with him. There were six incidents while he was in there for nine days where he had violent encounters with them (jailers)," Davis said. "Our hope is that the District Attorney will look into this."