Testingfg of Ads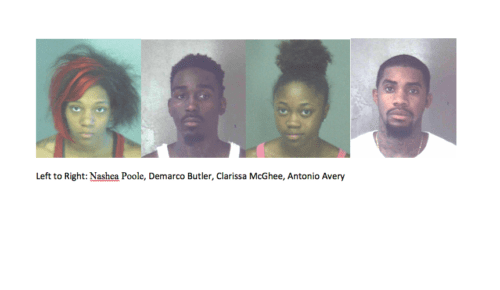 DeKalb County District Attorney Sherry Boston announced a conviction by jury trial in the homicide case against three gang members, including a female decoy, tied to a deadly online dating scheme. Jurors returned guilty verdicts on May  16 against 28-year-old Demarco "Blazalino" Butler, 26-year-old Antonio "Killa" Avery, and 22-year-old Nashea Poole on charges of Murder, Felony Murder, Aggravated Assault, Violation of the Georgia Street Gang Terrorism and Prevention Act, and weapons offenses for the shooting death of Jordan Collins, 23, and gunshot injuries to his brother, Chad Collins, 26.
The incident happened on Sept. 1, 2016 in Lithonia at the Turnbridge Wells Crescent home of the victims' sister. According to the investigation, Jordan Collins met Defendant Nashea Poole and her indicted accomplice, Clarissa McGhee, 22, via the 'Plenty of Fish' online dating site. The women came to the home under the pretense of a "date" with the men. Unbeknownst to the victims, defendants Demarco Butler and Antonio Avery lay in wait outside of the home where the victim was lured by Ms. Poole. Once outside, Jordan Collins encountered the two armed men and was shot in the back as he struggled to defend himself. His brother, Chad, was shot multiple times in the leg and arm after twice trying to assist him. Jordan Collins died at the scene. The women and two gunmen fled following the shooting. Cell phone records eventually led to the women's identities and subsequent arrests of the four suspects.
Trial testimony revealed that all three defendants were members of the 9 Trey Bloods criminal street gang in which both Butler and Avery held high-ranking leadership positions. Together with defendant Poole, the two men orchestrated a plan to rob the victims via a dating ruse. Prior to trial, co-defendant Clarissa McGhee entered a guilty plea to a charge of Aggravated Assault for her role in the crime.
The remaining defendants will be sentenced at a later date by DeKalb Superior Court Judge Gregory A. Adams, who presided over the trial.
The case was prosecuted by Major Case Unit Senior Assistant District Attorneys Dwayne Brown and Buffy Thomas with assistance from DA Investigator Sweden Bailey. Detective Vance Van Hees of the DeKalb Police Department led the initial investigation.