Testingfg of Ads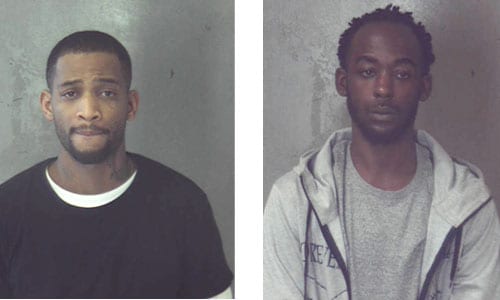 Left to Right: Vernon Beamon and Christopher Spencer
Two gang members received life sentences for the execution-style murders of a Stone Mountain couple, DeKalb County District Attorney Sherry Boston has announced.
Jurors found Christopher "Crisco" Spencer, 27, and Vernon "Veto Corleone" Beamon, 28, guilty on charges of murder, felony murder, aggravated assault, kidnapping, burglary, violation of the Street Gang Terrorism and Prevention Act, financial transaction card fraud, and weapons offenses in connection with the murders of Samuel White, 54, and his fiancé Sylvia Watson.
DeKalb County Superior Court Judge Courtney Johnson, who presided over the trial, sentenced Spencer to two consecutive life sentences without parole, plus 30 years. Beamon was sentenced to two consecutive life terms
without parole, plus 25 years.
The deadly string of events leading to the double homicide began on the morning of Oct. 24, 2016 shortly after Ms. Watson returned home to the couple's Tree Mountain Parkway apartment following a doctor's appointment. As she exited her car, Spencer and Beamon, members of the "Rollin 20's"- a subset of the Crips gang, approached her at gunpoint and forced her back into her driver's seat. She was then ordered to drive to multiple ATMs and withdraw money while the gunmen rode as passengers. One bank surveillance video captured images of the terrified victim and Spencer in the rear seat of her vehicle.
The defendants then ordered the woman to return to her apartment and join her fiancé. The victims were forced to the floor face down. Spencer and Beamon then tied the victims' hands and feet with ropes and cords and bound the two together before fatally shooting each one in the back of the head. They then ransacked the apartment for nearly an hour, leaving with a TV and other small items. A friend who was briefly staying with the victims discovered their bodies that evening.
Spencer was captured on Nov. 2, 2016 after being identified via surveillance video images from the bank. Beamon was captured during a traffic stop in Memphis, Tennessee two weeks later. According to the investigation, the men targeted the couple for settlement money they were rumored to have, though authorities found no evidence of such money.
The case was prosecuted by Deputy Chief Assistant District Attorney Lance Cross with assistance from DA Investigators Waine Pinckney, Richard Randolph and Sweden Bailey, along with Victim-Witness Advocate Tina Williamson. Detectives K. McQuilkin and B. Kershaw of the DeKalb County Police Department led the initial investigation.