Testingfg of Ads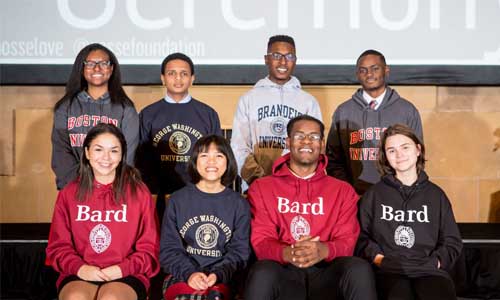 Eight students from DeKalb County School District (DCSD) have earned all-expenses paid trips to some of the most prestigious colleges in the country, thanks to the Posse Foundation, a nonprofit organization.
Students from seven DCSD high schools—including one charter school specializing in educating individuals on the autism spectrum—have been named Posse Scholars for the 2018-2019 school year. As recipients, the scholars will receive full tuition at a college or university of their choice for up to four years.
"I am so proud of our students and the many new and different ways they demonstrate success and innovation," said Superintendent R. Stephen Green.
The eight students, their chosen colleges and universities, as well as their respective schools, are:
Robert Felton – Boston University – Chamblee Charter High
Isabelle Yap – Boston University – Chamblee Charter High
Mariya Kurbatova – Bard College – DeKalb  School of the Arts
Emmanuel Zelalem – The George Washington University – Druid Hills High
Maya Lavender – Bard College – Dunwoody High
Caleb Wyatt – Bard College – Stephenson High
Bawi Par – The George Washington University – Stone Mountain High
Xavier Butler – Brandeis University – Tapestry Public Charter
Each student was recognized during a ceremony on Jan. 10 at the Fox Theatre in downtown Atlanta.
According to the Posse Foundation, the scholarship is rooted in the belief that a small, diverse group of talented students—a "posse"—can serve as a catalyst for individual and community development.
The Posse Foundation began seeking talented students in Atlanta in 2007 with help from The Arthur M. Blank Family Foundation. Each scholar goes through a lengthy selection process, consisting of nominations, written references, and more. For more information, visit www.possefoundation.org.