Testingfg of Ads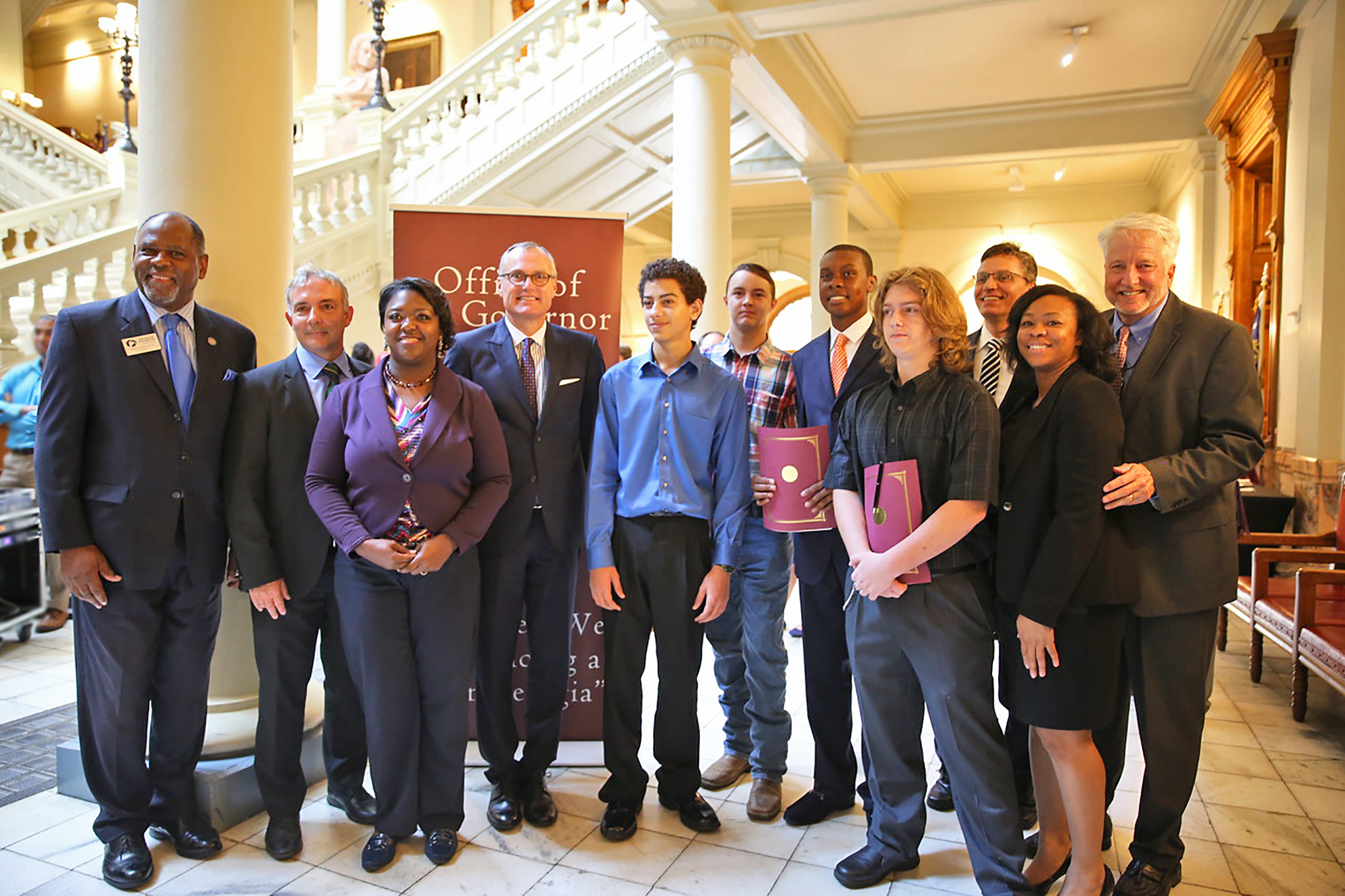 L-R: Georgia Piedmont Technical College President Dr. Jabari Simama, Bosch General Manager Bruno Oberle, State Senator Tonya Anderson, Lt. Gov. Casey Cagle, Heritage High sophomore Alex Spencer, Rockdale County High sophomore TJ Hayes, Salem High sophomore Stanley Odom, Rockdale County High sophomore Toby Lanier, Haver & Boecker Exec. Vice President Claudio Caobianco, Haver & Boecker Human Resources Generalist Thomi Breedlove, Conyers Rockdale Economic Development Council Exec. Director Marty Jones.
Rockdale County Public Schools (RCPS) and Rockdale Career Academy (RCA) announced the launch of an innovative German-style apprenticeship program under the Georgia Consortium for Advanced Technical Training (GA CATT), beginning with four students at the local branches of two German manufacturing companies. The students will be learning while earning.
The four sophomores – Stanley Odom of Salem High, Toby Lanier of Rockdale County High, Alex Spencer of Heritage High; and T.J. Hayes of Rockdale County High – signed letters of commitment to the three-year Industrial Mechanic Apprenticeship program during an Aug. 14 signing ceremony at the Georgia Capitol. Odom and Lanier will apprentice at Haver & Boeker under the mentorship of Executive Vice President Claudio Caobianco and Spencer and Hayes will apprentice at Bosch under the mentorship of General Manager Bruno Oberle.
Apprentices are dual-enrolled students, splitting time between high school, technical college and a local manufacturing plant. By the end of the three years, students graduate with a high school diploma, progress toward an Associate's degree, receive a U.S. Department of Labor Apprenticeship certificate, German-American Chamber of Commerce certification as an industrial mechanic and earn between $20,000 to $25,000 while learning. The program is effectively a $40,000 scholarship as the Georgia Piedmont Technical College degree program is fully paid by the state and the training costs for the apprenticeship is borne by the company.
At the signing ceremony hosted by Lt. Gov. Casey Cagle's office, the German American Chambers of Commerce, Technical College System of Georgia and the Georgia College and Career Academies, Cagle thanked those involved in establishing and growing the apprenticeship program.
"These partners continue to revolutionize the way our students are entering the workforce as skilled employees, driving the economy in their region. We are very proud of how it's going to impact the entire state as well," said Cagle. "I believe that when we connect to make sure education is aligned with what industry needs truly are, we will have better outcomes."
RCPS Superintendent Richard Autry praised the hard work and partnerships created by RCA in order to launch this program.
"Individualized and industry-driven programs such as this provide our students options that give them the advantage after they graduate. I am proud of this collaboration between industry and education that sets our young people up for success," Autry said.
The organizations involved in the program include RCA, Newton College & Career Academy (NCCA), Georgia Piedmont Technical College, Bosch, FiberVisions, General Mills, Haver & Boecker, Michelin Tread Technologies, Nisshinbo, Verescence, German American Chamber of Commerce, Lt. Gov. Casey Cagle's Office, Conyers Rockdale Economic Development Council, Newton County Chamber of Commerce, and Georgia Tech Manufacturing Extension Partnership. RCA and NCCA formed a regional group under GA CATT in order to launch the German-style apprenticeship program.
For information on how to apply, contact Bennett McCumber at bmccumber@rockdale.k12.ga.us. More information about GA CATT is available at www.gacatt.com.