Testingfg of Ads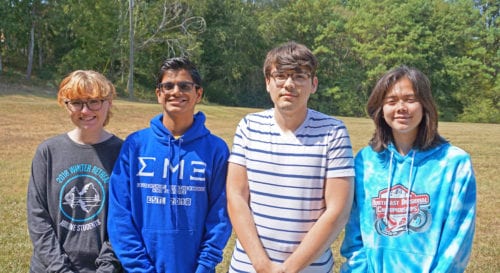 Four Rockdale County Public Schools (RCPS) students are among the top performers recognized this year in the 2020 National Merit Scholarship Program. Abigail Oser, a senior at Rockdale Magnet School for Science and Technology (RMSST), was named a National Merit Semifinalist – part of an elite group of 16,000 identified out of 1.5 million students who entered in the 65th annual National Merit Scholarship Program. Fellow RMSST seniors Sarah Goldgar, Shivam Vohra, and Ian Westcott were named Commended Students in the program. Their scores on the 2018 PSAT test put them in the top 34,000 of all test takers.
"I am excited that Abigail, Sarah, Shivam, and Ian are being recognized through the National Merit program. They have worked diligently since ninth grade to challenge themselves within the classroom and through academic extracurricular teams," RMSST Director Amanda Baskett said. "At Rockdale Magnet School for Science and Technology, we focus on preparing students to be STEM leaders in a time of accelerated change. Through their test scores, these students have demonstrated that they are performing at the top level nationally and ready to be leaders as they head to college."
As a National Merit Semifinalist, Oser will have an opportunity to continue in the competition for some 7,600 National Merit Scholarships worth more than $31 million that will be offered next spring. To be considered for aMerit Scholarship award, Semifinalists must fulfill several requirements to advance to the Finalist level of the competition. Over 90 percent of the semifinalists are expected to attain finalist standing, and about half of the finalists will win a National Merit Scholarship, earning the Merit Scholar title.