Testingfg of Ads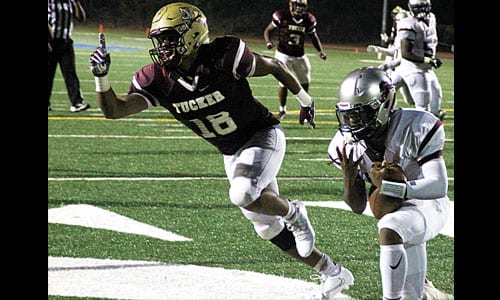 By Mark Brock
DeKalb County put four teams through to the Sweet 16 of the GHSA State Playoffs with three in host roles this weekend.
The Class 6A No. 1 ranked Tucker Tigers (10-1) play host to a familiar playoff opponent as the No. 5 ranked Northside Eagles of Warner Robins travel up I-75 for a 7:30 pm date on Friday at Adams Stadium.
The two teams have met in the state playoffs four times and are all even at 2-2 in the series that has featured some exciting finishes over the years.
Tucker won 22-7 at Hallford Stadium in the Class 6A state semifinals last year to advance to the state championship game. It marked the third time the two teams had played for a spot in the finals.
Northside rallied from a 28-7 halftime deficit in the 2007 Class 4A state semifinals to win 31-28 on a field goal in the waning seconds and went on to win the state title. Tucker used a 100-yard fumble return as the Eagles were going in for the game-clinching victory in the 2011 on the way to a state title win over Lovejoy that season.
The Eagles won a quarterfinal 23-20 to advance to the Class 5A semifinals in 2012 with a thrilling fourth down touchdown in the waning moments of the game.
Tucker enters this year's matchup having won eight consecutive games, including last week's 55-7 rout of Lakeside-Evans in the opening round of the state playoffs.
The Tigers are led by 1,000-yard rusher Taurean Taylor who went over the 1,000-yard mark for the second consecutive season with his 112-yard, three-touchdown performance last week. It puts Taylor at 1,060 yards and 16 touchdowns on the year.
Trevon Ford triggers the offense that has rushed for approximately 3,000 yards this season, but he has over 1,200 yards passing and 16 touchdowns on the season through the air. His main target is All-State receiver Joshua Vann who is over 800 yards and 13 touchdowns receiving on the season.
Senior defensive end Antonio Showers has been a force on defense for the Tigers with 14 sacks and 7 tackles for a loss over the first 10 games of the season. Senior Malik Ransom who had a fumble recovery for a touchdown last week has 8 tackles for a loss and 2 sacks while fellow senior linebacker Mike Harris leads the team in tackles and has 9 tackles for a loss and 4 sacks.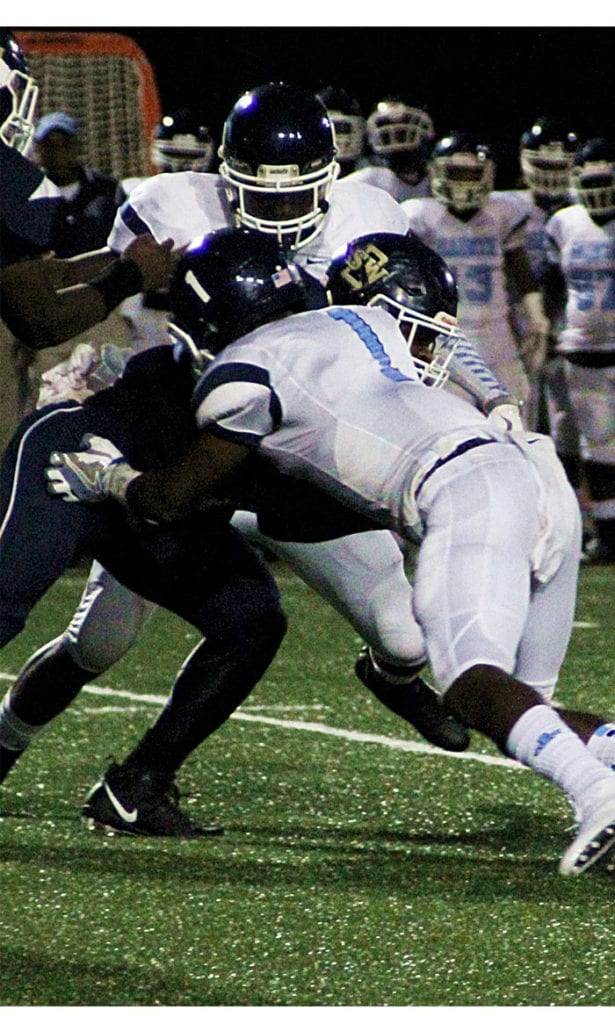 Class 5A
Region 5-5A champion Arabia Mountain (9-2) hosts No. 10 ranked Carrollton (9-2) on Friday night at Hallford Stadium with kickoff set for 7:30 pm.
The Rams are in the Class 5A playoffs Sweet 16 for the second consecutive season after not having made the playoffs from the beginning of the program in 2009 through the 2015 season. A 35-21 victory over North Springs last week was not as close as the score indicates as the Rams were up 35-0 in the second half.
Carrollton, a perennial playoff team, advanced with a 35-16 win over Clarke Central at home last weekend.
The Rams are led by quarterback Bryson Williams who has thrown for over 1,800 yards and 22 touchdowns this season. His main target is receiver Silas Butler who has 600 yards receiving and hauled in six of the 22 touchdowns passes from Williams. Joshua Campbell had 10 touchdowns and 782 yards rushing on the season.
Defensive linemen Demetric Barnes and Thomas Rayton are a tough duo for the Rams defense combining for 8 sacks and 8 tackles for a loss this season. Senior defensive back Justin Nelson is a ball hawk on defense with 4 interceptions, 2 fumbles caused and a fumble recovery.
The Southwest DeKalb Panthers (8-3) go on the road Friday to take on the Class 5A No. 1 ranked Rome Wolves (11-0) at 7:30 pm.
Rome, the defending Class 5A state champ, is in the Sweet 16 following a 63-13 knockout of Cedar Shoals last Friday night.
Quarterback Justin Tomlin came off a two-week injury stretch to throw three touchdowns and run for another to lead the Panthers to their 35-10 win over Banneker last weekend. He has accounted for 23 touchdowns (16 passing, 7 rushing) on the season to lead Southwest DeKalb. Running back Francisco Hunter finished the regular season as the leading rusher in the county with 1,623 yards.
The defense is led by senior linebacker Eris Walker who has 15 tackles for a loss and four fumble recovers. Defensive back Jamel Starks has three interceptions on the season.
Class 3A
Dawson County invades DeKalb County on Friday night to take on the defending Class 3A state champions and No. 1 ranked Cedar Grove Saints at 7:30 pm at Godfrey Stadium.
The Saints roughed up Adairsville 48-13 to advance to the Sweet 16 while Dawson County (8-3) knocked off Hart County 49-14.
The Saints are riding a 21-game win streak and in 11 games this season are scoring at a 42.2 points clip led by quarterback Xavier Dennis who threw three touchdown passes last weekend and ran for another. Dennis had thrown for over 1,200 yards and 21 touchdowns this season and contributed 7 rushing touchdowns.
Dennis' favorite target is preseason All-State selection Jadon Haselwood who has 500 yards receiving and 12 touchdowns to go with 1,000-yard rusher Darrell Neal who has 11 rushing touchdowns to his credit.
Senior defensive end Roderic Forts is a wrecking crew on defense with 17.5 tackles for a loss and 8.5 sacks and sophomore linebacker Isaiah Ratcliff also has 17. 5 tackles for a loss. Haselwood has two punt returns for touchdowns, including a 48-yard return last week, and four interceptions, one for a touchdown.
DCSD FOOTBALL PLAYOFFS SCHEDULE
CLASS 6A
Northside-WR (8-3) vs. Tucker (10-1), Adams, 7:30 pm
CLASS 5A
Carrollton (9-2) vs. Arabia Mountain (9-2), Hallford, 7:30 pm
SW DeKalb (8-3) at Rome (11-0), 7:30 pm
CLASS 3A
Dawson County (8-3) vs. Cedar Grove (11-0), Godfrey, 7:30 pm