Testingfg of Ads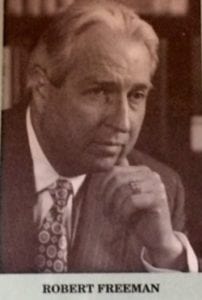 Those in the DeKalb County School District who knew Dr. Robert R. Freeman as superintendent for 16 years simply called him "Bob." It fit the gentleman cowboy's modest style.
"Bob was my mentor. He was my friend," said Dr. Melvin Johnson, chairman of the DeKalb County (Georgia) Board of Education. "He was one of the most influential people in my life."
Dr. Freeman passed away at age 84 on Oct. 21 in Alpharetta, Georgia, a north-Atlanta suburb.
Born in Jordan, Montana in 1931, Dr. Freeman brought the lessons of a Western upbringing to a long career in education.
"He had a deep belief in self-reliance and on people being true to themselves," Dr. Johnson said. "But he also believed that teamwork and shared goals led to success."
As a young man, Freeman exceled as an athlete, earning 10 varsity letters in high school sports – football, basketball, and track. After four years of service in the United States Air Force, he played a freshman year of basketball at Indiana University in 1954.
With a Doctor of Education degree from Indiana University in 1965, Dr. Freeman began a 43-year career as a teacher, administrator, superintendent, and consultant. He guided systems as a school superintendent in Menominee, Michigan; Mishawaka, Indiana; Muncie, Indiana; and Pueblo, Colorado.
Dr. Freeman capped his long career with the superintendent's post at the DeKalb County School District from 1980-1996. He was instrumental in DeKalb Schools obtaining unitary status in 1996, at the conclusion of the Pitts vs Cherry desegregation lawsuit.
Among many honors, Dr. Freeman received the Human Relations Award, DeKalb Community Relations Commission; Outstanding School Administrator of the Year, Peachtree-Atlanta Kiwanis; President of the National Federation of Urban-Suburban School Districts; Superintendent of the Year, American Association of School Administrators; and two Executive Educator 100 awards.
"All of us who knew Bob admired his wit, grace, humor, intellect, and story-telling," said Dr. Johnson. "He surely made his mark in this world."
Dr. Freeman is survived by two sons, Robin Freeman (Frankie) of Grayson, Georgia, and Timothy Freeman (Teresa) of Big Canoe, Georgia. He had seven grandchildren; four great-grandchildren; and five nieces and nephews. He was preceded in death by his wives Jean Ann Jessup and Mary Lou Day.
At Dr. Freeman's request, a private graveside service in Conyers, Georgia was held on Oct. 27.  In lieu of flowers, the family suggests contributions be made to the Alzheimer's Association at alz.org.