Testingfg of Ads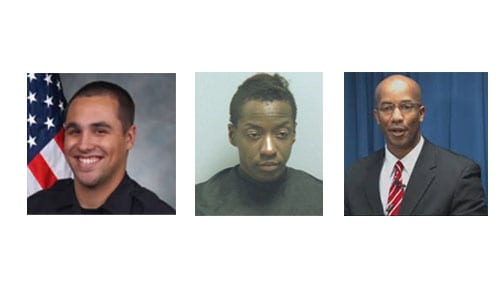 Katie McCrary, the 38-year-old mentally ill woman who was beaten with a baton by DeKalb Police Officer P.J. Larscheid, now has some high profile legal help. Former DeKalb County District Attorney Robert James, now in private practice, said he is representing McCrary in the criminal case in which she was charged with felony obstruction of a police officer during her June 4 arrest at a Chevron convenience store in Decatur. Glenda Hatchett, who is part of The Hatchett Firm and is known for her syndicated television show, "Judge Hatchett," is representing McCrary civilly.
The incident made national headline news after Larscheid's supervisors, who had initially cleared him of any wrongdoing, re-opened their investigation a couple of weeks ago when they learned a customer at the convenience store had recorded a video of the beating that went viral on the internet.
"I'm doing this because it is the right thing to do. God gives us talents and abilities to help people and no one needs help more than Katie," Roberts told On Common Ground News.
Roberts said McCrary is in a mental health facility. He said he got the case after he was asked to represent her about a week ago.
"She's a sweet, gentle soul but she does have some challenges. Still, her condition doesn't have anything to do with the beating she received. Like everyone else who saw the video of the beating, I was very troubled by it," said James. "It was very sad to see her lying on the floor prostate being beaten with a metal stick."
Roberts said he is cooperating with the GBI, which is now handling the investigation.
"I have not received any indication of how long the investigation might take. We will be prepared to move forward when the investigation is completed," said Roberts.
The incident happened at the Chevron convenience store at 3364 Glenwood Road in Decatur. Officer Larscheid responded to a call from the convenience store that a woman was asking customers for money inside the store. Larscheid had a brief conversation with McCrary and she ended up on the floor with him beating her with his baton. McCrary was arrested, treated at Grady Memorial Hospital and booked into the DeKalb jail.
The woman's husband, Antoine McCrary, told Channel 2 Action News his wife suffers from mental health issues.
Khalid Hussain, a former manager at the Chevron convenience store where Katie McCrary was beaten and arrested, said he never wanted McCrary arrested and is sorry for what happened to her. He said he supported McCrary 100 percent. He said he was not at the store on the Sunday when the incident happened.
"I saw the whole video and really, I cannot see it because it was very bad," Hussain said during an interview with 1380-WAOK radio talk show host Rashad Richey and CBS-46 television news anchor Sharon Reed. "…It was like a shock."
Hussain said he has known McCrary for the last seven years. He said he provided coffee and fed her nearly every day.
"I feed her for lunch time. She always come in," said Hussain.
Larscheid, who has been with the police department for over five years, has used force 14 times, including euthanizing a deer with a firearm in 2011, according to his personnel file obtained by Channel 2. He has been reassigned to an administrative job, pending an internal investigation and an investigation by the GBI.
Meanwhile, there has been an outcry from civil rights groups and others demanding justice. The DeKalb SCLC has led a boycott in front of the Chevron convenience store where McCrary was beaten. A group of state legislators spoke out during a press conference in July. The DeKalb NAACP and its president, Teresa Hardy, held a rally and panel discussion on July 29 at New Life Church of Decatur.
DeKalb County Commissioner Gregory Adams, who attended the NAACP's rally and panel discussion, called the beating "deplorable," while urging the community to await the outcome of the investigation
"It was deplorable what I saw on the video. I think it was excessive and abusive. In the 10 years that I've been a police officer, I've never used my baton. It didn't take all of that to arrest her," said Adams.
John Evans, president of Operation Lead in DeKalb, said the groups must keep the pressure on to fight for justice on McCrary's behalf.
"We've got to stay on it and complete it. This is so important. We can't go away," Evans said.