Testingfg of Ads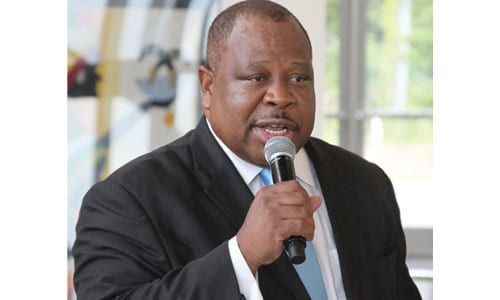 Former DeKalb County Commissioner Stan Watson was sentenced to 12 months probation, after pleading guilty to misappropriating about $3,000 in county funds intended for business travel.
Watson, 63, was supposed to start his pre-trial on Oct. 25 but entered the plea instead. He was sentenced to 12 months probation as a first-time offender, rather than as a felon.
Watson's attorney, Robert James, said he and Watson were pleased with DeKalb Superior Court Judge Asha Jackson's ruling.
"Our intention was never to escape accountability. We wanted him to be treated fairly as others in similar situations," said James, DeKalb County's former District Attorney. "He will not have a record and can go on with his life and get a job. He is very pleased and so am I. It's a victory for Mr. Watson."
The charge against Watson dates back to January 2016 when he served as District 7 Commissioner. Watson requested and received advance checks for travel expenses related to upcoming business conferences.  However, in March 2016, prior to attending those conferences, he resigned his position to run for DeKalb County Tax Commissioner.  The county-issued funds were then used illegally for personal expenses.
In October 2016, task force agents from the FBI's Public Corruption Unit interviewed Watson about the travel funds that were issued to him.  Watson admitted to having the money and acknowledged that it should be repaid.  However, he did not do so until approximately five months later in March 2017—a year after the money should have been returned. County policy requires any funds advanced, but not used for travel, be repaid to the County immediately.
The State requested that Watson be sentenced to five years' probation, the maximum allowed under law for the charge of Theft by Conversion. James, however, asked the court to use its discretion under the law and reduce the charge to a misdemeanor, taking into consideration the money was repaid and was a first-time offense for his client.
District Attorney Sherry Boston said elected officials should be held to a higher standard.
"We will not stand for corruption within our County government. This Defendant stole from the citizens of DeKalb County by taking funds intended for legitimate business purposes and converting that money to personal use," said Boston.  "Elected officials should be held to a higher standard of responsibility and accountability to the citizens whom they are elected to serve."
After hearing arguments from both sides, DeKalb Superior Court Judge Asha Jackson reduced the charge against Watson to a misdemeanor, over the State's objection.
In addition to 12 months probation, Judge Jackson ordered Watson to perform 150 hours of community service and barred him from conducting business with or for DeKalb County for the duration of his probation.