Testingfg of Ads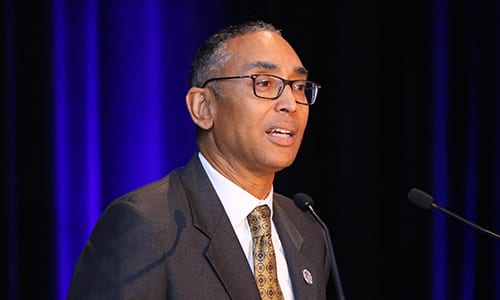 As early voting gets underway this week, the American Civil Liberties Union (ACLU) of Georgia and the Georgia State University Black Law Students Association are presenting a panel discussion that features former DeKalb CEO Burrell Ellis.
For the first time since the State Supreme Court unanimously reversed his wrongful conviction, Ellis will speak publicly about his ordeal of being wrongfully prosecuted. Ellis, now political director for the ACLU of Georgia, is one of three Georgians featured in a video series, "Voices of Smart Justice," which the ACLU is debuting to highlight the importance of electing candidates in 2018 who support real reform.
The event will be held on Wednesday, Oct. 24, 6:30 p.m., at the Ceremonial Courtroom at the GSU Law School, 85 Park Place NE, Atlanta.
After each video, Ellis, Dorothy Adams and Kate Boccia will discuss their experiences and answer questions from the audience.
The MC for the event is Ariane Davis, known for her role in Love & Hip-Hop Atlanta.
"I use my platform to promote a message bigger than myself. This is the reason I've teamed up with the ACLU of Georgia to promote Smart Justice Georgia," said Davis.
The event moderator is Miguel Dominguez who became the first Latino prosecutor in several metro Atlanta counties, including Rockdale, DeKalb, and Clayton. Dominguez is now in private law practice.
"Criminal justice reform is on the ballot in November," said Andrea Young, executive director of the ACLU of Georgia. "Criminal justice reform is a pre-eminent racial justice issue which is the reason we must vote for candidates who support Smart Justice."
The ACLU of Georgia's Campaign for Smart Justice is an unprecedented, multi-year effort to reform the criminal justice system by ending mass incarceration and eliminating racial disparities in the criminal justice system.
People of color are disproportionately impacted by Georgia's criminal justice system. For example, African-Americans make up 31 percent of the state's total population yet represent almost two-thirds of its prison population. While the United States incarcerates more people than any other nation in the world–even more than Russia, China, or North Korea, Georgia's incarceration rates are higher than the national average. In 2016, Georgia's prison population was the fourth largest in the nation.
Voices of Smart Justice

About Dorothy Adams– An African American woman in her early 70's who stole a $6.99 can of Planters nuts and was locked up for 15 days in horrific conditions because she was unable to pay a $1,000 bond fee. Adams, who continues to take medicine for her mental health issue, had not taken her medicine on the day of her arrest.

About Kate Boccia– A white, suburban mother remembers clearly the night she and her husband first received "the call" alarming them that their child had been arrested. Her "journey" was suddenly the same as a growing number of American families. Ignoring stigmas and shame, Boccia advocates for the families who are losing their loved ones to addiction and incarceration. Her most recent work is with an organization she founded and serves as its president, The National Incarceration Association. Her blog – Justice for Daniel– provides much insight.

About Burrell Ellis– The former DeKalb CEO was convicted in July 2015 of attempting to extort a contribution for his re-election campaign from a county vendor and perjury. Ellis was sentenced to 18 months in prison and five years on probation, but was released on March 1, 2016, after serving eight months. Ellis appealed the conviction.  On Nov. 30, 2016, the Supreme Court of Georgia overturned his sentence. The high court ruled Ellis did not get a fair trial because he was not allowed to present evidence that could have helped his case. The DeKalb Board of Commissioners voted in April 2017 to reimburse Ellis of $755,000 for his defense costs. In December 2017, Ellis was named political director for the ACLU of Georgia.