Testingfg of Ads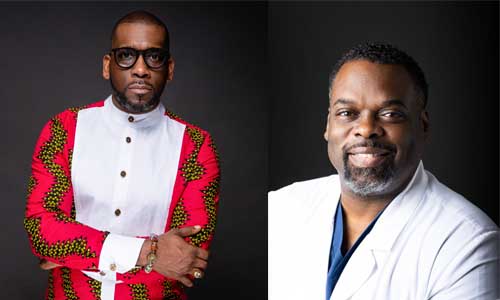 Pictured: Pastor Jamal Bryant and Dr. Damon Kimes
 "Married to Medicine'"s Dr. Damon Kimes brings free mobile COVID-19 testing to Stonecrest
After a two-week hiatus, New Birth Missionary Baptist Church, 6400 Woodrow Road, Stonecrest will re-launch its weekly food pantry on Saturday, Aug. 22,  beginning at 10 a.m.
The King's Table food pantry, which was briefly paused during the church's annual sabbatical, provides an array of free groceries, fresh produce and shelf-stable items to approximately 8,000 individuals each week. All items are available on a first-come, first-served basis.
"For many individuals and families, this global pandemic not only represents a health crisis but also a financial one as well that has impacted many families' ability to put food on their tables," said New Birth's Senior Pastor Jamal Bryant. "As our nation and world responds to this pandemic, it is important to support those families and individuals who may have limited access to healthcare, are reliant on school meals for nourishment and don't have the luxury to stock up on needed items due to unexpected financial hardships."
The Stonecrest church, in partnership with NAACP DeKalb, will also provide on-site participants with voter registration and Census 2020 information.
On the same day, the community is encouraged to participate in a free drive-thru COVID-19 testing in partnership with Dr. Damon Kimes.  Kimes, a recurring cast member on Bravo's "Married to Medicine series, recently launched a mobile COVID-19 testing called Georgia Know Your Status (GKYS), with the intent to bring safe, effective testing to people in underserved communities. To date, GKYS has tested more than 10,000 patients across the state. Testing begins at 10 a.m. and concludes at 2 p.m. No appointment is necessary.
"We are making progress, but our work is not done," said Kimes, a triple board-certified physician. "We are making a great impact and, we want to activate all our resources to prevent the spread of COVID-19. Testing will lead to quick identification of cases, quick treatment, and immediate isolation to prevent further spread of this virus."