Testingfg of Ads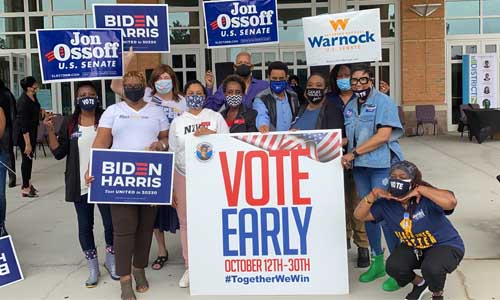 "Flip the Senate Event" held at New Birth Missionary Baptist Church, Oct. 10
STONECREST– Democrats were out in full force on Saturday stomping for votes in DeKalb County at the Flip the Senate event hosted by DeKalb County Super District 7 Commissioner Lorraine Johnson.
 Georgia Congressman Hank Johnson and his wife, DeKalb Commissioner Mereda Davis Johnson, State Rep. Doreen Carter, U.S. Senate Democratic nomineeJon Ossoff attended the event where free Biden-Harris yard signs were given away at the New Birth Missionary Baptist Church campus on Saturday, Oct. 10. Yard signs supporting U.S. Senate candidate Raphael Warnock and U.S. Senate Democratic nominee Jon Ossoff also were distributed. Ossoff was on hand to greet DeKalb  supporters for a second consecutive weekend. Ossoff attended a sign giveaway hosted by Congressman Johnson on Oct. 3 in Lithonia. Warnock also attended the Lithonia event.
Georgia has two Senate seats to fill. Ossoff, who won his primary seat in June, is seeking to unseat GOP Sen. David Perdue. Warnock is among 21 candidates in a special election seeking to fill the seat of former Sen. John Isakson, who retired last year for health reasons.
Other elected officials and clergy who came out for the Stonecrest drive-through event include: Stonecrest City Council members Tammy Grimes and Jazzmin Cobble, Clarkson City Council members Awet Eyasu and Debra Johnson, Doraville City Councilmember Stephe Koontz, Stone Mountain Mayor Pro Tem Chakira Johnson, Pastor William Flippin of Greater Piney Grove Baptist Church and Pastor Lee May of Transforming Faith Church.