Testingfg of Ads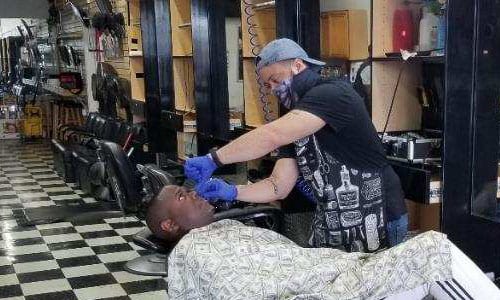 Pictured: Barber Ivan Takes care of a customer at FlawlessCuts in Stonecrest on March 27.
By Nate Hill
STONECREST—As people are forced to stay at home, many businesses are forced to deal with circumstances that are now considered to be "the new normal."
A recent visit to my local barber at Flawless Cuts at 2928 Evans Mill Road in the city of Stonecrest revealed a scene that did not exist just two weeks ago: The plaza's vast parking lot was nearly empty (where one of the anchor tenants is the South DeKalb YMCA Academy Learning Center); a nail salon was closed, as well as a beauty supply store, both usually busy.
Inside the barbershop, the vibe was different, too. Customers were not discussing sports, usually playing on the flat screens. This new reality dictates a world where sports have been put on hold—indefinitely.  And in this world, all talk is on the coronavirus and its impact.
Reginald, a professional tow truck driver, said the number of calls that he and other drivers have been receiving has dropped dramatically over the last two weeks. As a result, he said, 20 drivers at the company where he works were laid off. As a long-time employee, however, he was spared. For now.
"There are so few cars on the road, the need for a tow truck has decreased with fewer cars on the road today," said Reginald.
Lamik Lewis, owner of Flawless Cuts, agreed that the coronavirus is impacting many businesses.
"Times are tough for everyone and we all will have to adapt to some new ways of getting by," Lewis said.
Lewis said he was forced to close his Conyers location after Rockdale County officials announced its lockdown on "non-essential businesses." He said he is thankful that he has been able to remain open under the city of Stonecrest's restrictions, which stipulate that businesses may open at 6 a.m. and must close by 9 p.m. Public gatherings of 10 or more are prohibited.
Smitty, my personal barber and the manager of the location in Stonecrest, said that in the face of the virus, more caution has to be taken with caring for their customers. Things such as using a disinfectant spray on the barber chairs from top to bottom between customers, and the use of masks and gloves being worn by both customers and some barbers are now considered normal dress and behavior in the retail environment.
Ivan, one of the barbers dressed with the additional protection, received compliments from customers entering the shop.
"I see y'all are doing what's necessary in order to see customers," the man said.
Another customer chimed in: "Yeah, it's a lot of pollen out there."